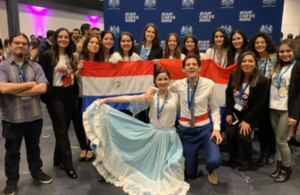 After a selection process that started in August 2018 and concluded with an award ceremony in August 2019, the future leaders and decision makers of Paraguay are in the UK ready to start their masters' degrees studies for the 2019-20 period.
They gathered in London on the 12 October for the Orientation event where they were welcomed with inspiring talks and networking activities, along with other 1,700 scholars from over 160 countries.
Since the reopening of the embassy in 2013, the number of scholars has increased thanks to agreements with partners such as BECAL – the local scholarships scheme – that allows more Paraguayans to access the UK's world-class higher education.
The Chevening scholarships allow outstanding young Paraguayans to carry out postgraduate studies at British universities and courses of their choice with all expenses covered.
Applications to study during 2020/2021 are open until 5 November 2019 at chevening.org/apply
Complete list of 2019/2020 scholars
Jaqueline Cabañas – MSc in Electrical Power Engineering, University of Edinburgh
Paz Astigarraga – MPP in Public Policy – University of Oxford
Melisa Rivas – MSc in Entrepreneurship and Innovation, Queen Mary University of London
Laura Duarte – MA in Special and Inclusive Education, University College London
Lucía Amaro – MSc in Psychoanalytic Developmental Psychology, University College London
Gabriela Cazenave – MSc in International Development: Environment Change and Development, University of Manchester
Eduardo Carrillo – MPA in Digital Technologies and Policy, University College London
Carolina Acosta – MSc in Public Policy, University College London
Victoria González – MA in Applied Linguistics for English Language Teaching, Queen Mary University of London
Samuel Acosta – MSc in Bioinformatics and Systems Biology, University of Manchester
María José Villalba – MSc in Law and Finance, University of Oxford
Lucía Cazal – LLM in Master of Laws, London School of Economics and Political Science
Tamara Arietti – LLM in Master of Laws, London School of Economics and Political Science
Marlene Ortiz – MA in Housing and Urbanism, Architectural Association
Claudia Merlos – MSc Media, Communication and Development, London School of Economics and Political Science
Published 16 October 2019