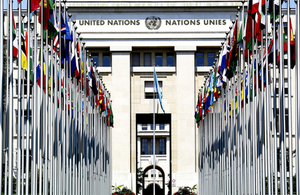 The United Kingdom welcomes steps taken by the Kyrgyz Republic to promote and protect human rights, such as improving legislation on gender-based violence and child, early and forced marriage,including recognising psychological and economic as well as physical violence.
In this parliamentary election year, a free press is essential for ensuring democratic accountability. We urge the Government to protect the freedom of the media by adopting legislation requiring sentences to be proportionate to the offence, and decriminalising defamation.
We therefore recommend that Kyrgyzstan:
Ratify the Protocol of 2014 to the ILO Forced Labour Convention 1930 (P029);

Take all necessary steps to implement the UN Convention on Rights of Persons with Disabilities, including ensuring access to work and education, and ensuring that all public buildings are accessible.

That legislation is not adopted, including the so-called "foreign agents law", that will limit the ability of Non-Governmental Organisations to operate freely.
Thank you.
Published 20 January 2020