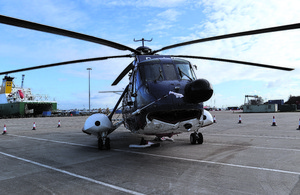 The helicopter was being transferred from Marchwood, Hampshire, to a maintenance base having been transported, by sea, from the Falkland Islands. As the helicopter took off for a hover check it pitched nose-down. The commander promptly lowered the collective and the helicopter struck the ground on its nose, before coming to rest on its landing gear.
The investigation found that the spherical bearing within the swashplate had seized as a result of corrosion, compounded by inactivity during the voyage from the Falkland Islands. The checks prior to the flight did not identify the control restriction.
Safety action has been taken by the helicopter manufacturer to highlight the correct pre flight procedures to follow after prolonged aircraft inactivity, and by the operator to remind flight crews to conduct flight control servo system checks to the maximum extents of control movement.
Published 30 January 2020