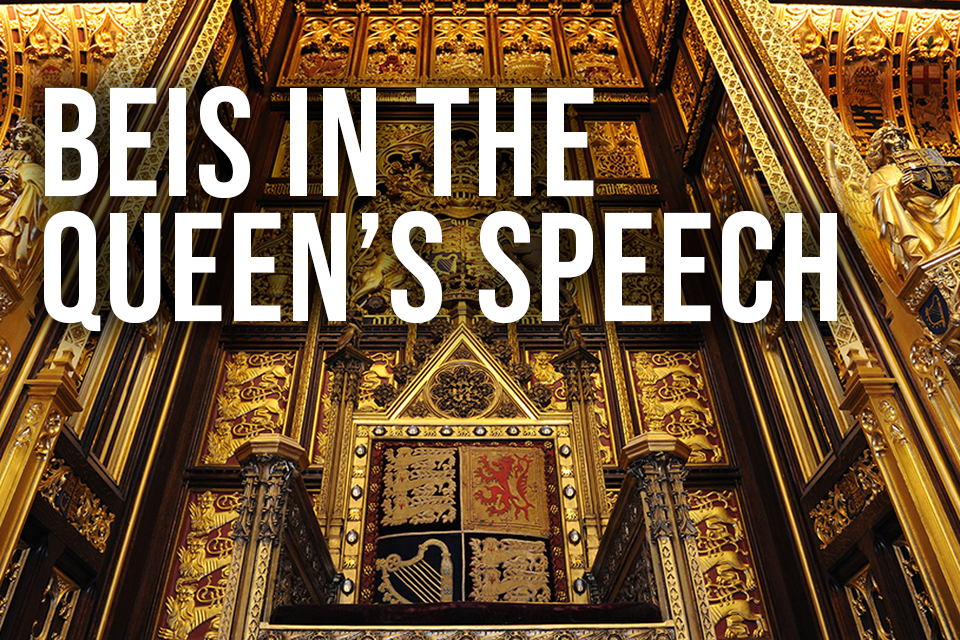 Queen's Speech focuses on the priorities of the great British public – boosting economic growth to address the cost of living and creating conditions for more high-wage, high-skill jobs
Energy Security Bill delivers on the commitment to build a sustainable homegrown energy system that is more secure, clean, and affordable, as well as enabling the extension of the energy price cap beyond 2023
measures to help further strengthen consumer rights and protect households and businesses will also be published
Business Secretary Kwasi Kwarteng has today (Wednesday 11 May) hailed this week's Queen's Speech, which reinforced the government's commitment to boost economic growth across the country, create the conditions for more people to have high-wage, high-skill jobs, make streets safer, and support the NHS.
The speech set out the government's legislative agenda for this parliamentary session and affirmed the government's commitment to focus on the priorities of the British public and how the government is growing the economy to address the cost of living. This includes building a sustainable homegrown energy system, strengthening consumer rights, tackling illicit finance, reducing economic crime and helping businesses grow.
Business Secretary Kwasi Kwarteng said:
The Queen's Speech reinforces our commitment to delivering on the priorities of the British public. It shows we are working to boost economic growth to tackle the cost of living, create jobs and spread opportunity across the country.

We continue to stand by workers and businesses by doing whatever we can to ease their burdens as they face global pressures on the cost of living, having already supported the hardest hit with £22 billion of help.
The Queen's Speech includes key measures that will deliver on the promises the government made at the start of this Parliament, and BEIS will be at the forefront of delivering.
This includes:
Accelerating our transition to more secure, more affordable and cleaner homegrown energy supplies
The UK is at the forefront of new, clean energy technologies. Over the past 12 years, the UK has increased renewable capacity connected to the grid by 500% – more than any other government in British history – as a result of £90 billion investment. Our British Energy Security Strategy set out plans to accelerate this further to reduce our exposure to volatile global gas prices in the long term, with a home-grown energy system based on renewable energy and low carbon technologies.
The Energy Security Bill will deliver on the government's commitment to do that, bringing into legislation measures to propel this transition to a cleaner, more affordable energy system that is fit for the future. It will also enable the extension of the energy price cap beyond 2023.
The Bill follows a £9.1 billion package of support to help households with energy bills in the immediate term and boosts protection for consumers by extending the default tariff price cap – preventing suppliers from overcharging consumers and shielding approximately 22 million households.
It also provides powers to introduce a price cap for those on heat networks to ensure they are charged a fair price for heating.
The government will fire the starting gun on new technologies, such as carbon, capture, usage and storage (CCUS), and low carbon hydrogen. Low carbon technologies, such as these, will help us meet our net zero obligation by reducing emissions from industry and provide power when the wind is not blowing, or the sun does not shine.
By introducing state of the art business models, the government will support the growth of a 10GW hydrogen economy and new CCUS industry, unlocking tens of thousands of jobs across the UK by 2030 while supporting the economic transformation of our industrial regions and giving investors certainty.
This legislation will also establish our new Future System Operator, which will look at Great Britain's energy system as a whole, integrating existing networks with emerging technologies such as hydrogen.
The Bill will also introduce competition in Britain's onshore electricity networks to encourage investment and innovation, through which consumers could see savings of up to £1 billion by 2050 on projects tendered over the next ten years.
Strengthening powers to tackle illicit finance, reduce economic crime and help businesses grow
The Economic Crime and Corporate Transparency Bill will tackle economic crime, strengthen our national security, and boost small businesses. Through the Bill, the government will crack down on the kleptocrats, criminals and terrorists who abuse our open economy. Stronger anti-money laundering rules, reforms to corporate law, and the biggest upgrade to the Companies House register in 170 years will root out wrongdoers so legitimate businesses can thrive.
Anyone setting up, running, owning or controlling a company in the UK will need to verify their identity with Companies House. Companies House will be able to challenge information that looks dubious and inform security agencies of potential wrongdoing.
The government is committed to keeping costs low for small businesses, and will introduce measures to streamline filing requirements to reduce red tape.
Millions of the UK's small businesses will benefit from more reliable, better quality Companies House data to inform their decisions. The government will also increase transparency around limited partnerships so they can't be used for illicit purposes.
Rebuilding trust in the UK's audit, corporate reporting and corporate governance system
We will rebuild trust in the UK's audit, corporate reporting and corporate governance system and the insolvency regulatory framework and ensure accountability for those with key roles in that system.
The government will prepare and publish a draft Bill to revamp the UK's audit and corporate reporting regime, increasing the resilience and choice in the statutory audit market and reinforcing the UK's reputation as a world-leading destination for investment.
By creating a strong new statutory regulator, tackling the dominance of the Big Four audit firms and making directors of big companies more accountable, the Bill will strengthen the UK's position as one of the best places to do business and invest while helping reduce the risk of sudden big company collapses.
The government will also be publishing draft legislation to promote competition, strengthen consumer rights and protect households and businesses. This will protect consumers' hard-earned cash and help them get better deals. It will do this by boosting consumers' rights, strengthening enforcement, and promoting more competition in UK markets, so that consumers have confidence in markets and businesses compete on a level playing field.
This legislation will tackle bad business practices, such as subscription traps and fake reviews, that cost consumers money. Prepayment schemes like Christmas savings clubs will have to fully safeguard customers' money through insurance or trust accounts.
The government will create a best-in-class competition regime, to make markets for consumer goods and services more competitive and dynamic to ensure that consumers get the best deals.
To beef up the enforcement of consumer protections, the legislation will also give the Competition and Markets Authority more powers to crack down on bad businesses ripping off consumers.
Reforming the UK's data protection regime
The government wants to take advantage of the benefits of Brexit to create a world class data rights regime that will allow us to create a new pro-growth and trusted UK data protection framework that reduces burdens on businesses, boosts the economy, helps scientists to innovate and improve the lives of people in the UK.
The Data Reform Bill, led by the Department for Digital, Culture, Media and Sport, will give consumers and small businesses more control of their data and how it is used by taking powers to increase industry participation in Smart Data schemes.