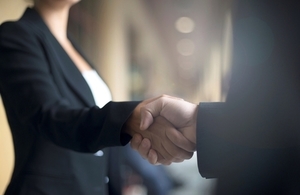 The Biometrics and Forensics Ethics group announce the recruitment of 4 new members. The new members come from diverse backgrounds, with expertise across digital privacy, biometric systems, information policy and ethics.
Mark Watson-Gandy, Chair of the BFEG, said:
I'm delighted to be welcoming these new members to be part of the Biometrics and Forensics Ethics Group. They bring a wealth of experience and will help us to provide independent advice to the Home Office on the ethical impact of all aspects of biometrics, around data ethics.
The 4 new members are:
Dr Nóra Ni Loideain – Director of the Institute of Advanced Legal Studies, University of London
Dr Richard Guest – Reader in Biometrics Systems Engineering and Deputy Head of the School of Engineering and Digital Arts, University of Kent
Professor Charles Rabb – Turing Fellow at the University of Edinburgh
Dr Julian Huppert – Director and Fellow at the Intellectual Forum, Jesus College Cambridge.
The new members joined the Biometrics and Forensics Ethics Group at the group's plenary meeting on 25 September 2019.
Published 10 October 2019