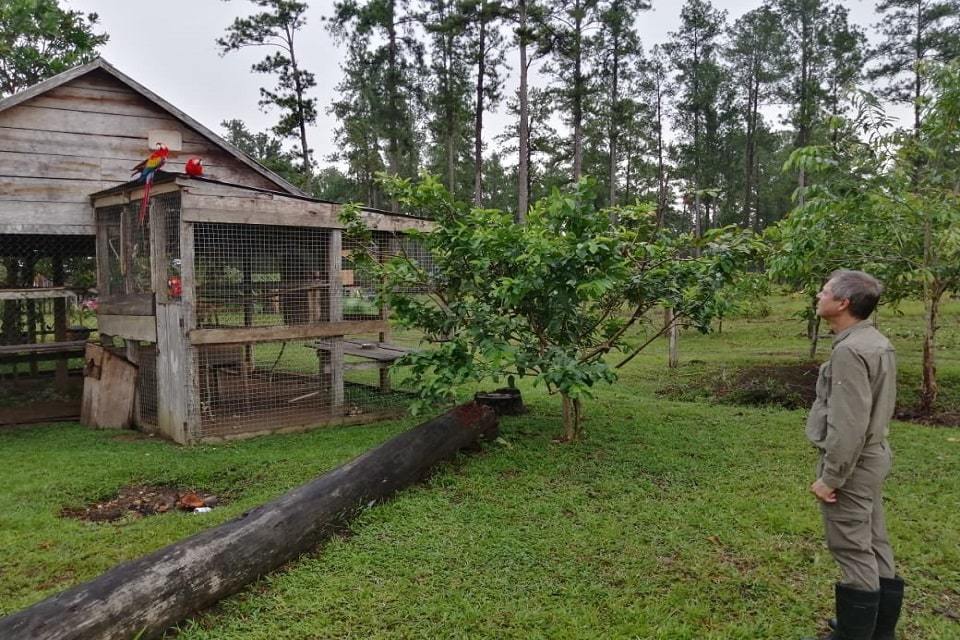 The British Ambassador to Honduras, Nick Whittingham, visited La Moskitia from 2-9 May to assess the impact of UK funded projects, which have been implemented in Gracias a Dios Department. The United Kingdom's Department of Food and Rural Affairs (DEFRA) have provided more than US$700,000 in funds from 2016 to 2021, through projects from the Illegal Wildlife Trade Challenge Fund and the Darwin Initiative (which also covered Nicaragua).
One project pursued the goal to reduce wildlife trafficking of Honduras's national bird, the scarlet macaw. The initiative strengthened management and law enforcement of indigenous territories, and improved local livelihoods for approximately 4,200 people across 3,300 km2 of the Honduran Moskitia, by providing technical support to 11 indigenous communities, decreasing nest poaching and coordinating enforcement with government agencies.
Ambassador Whittingham travelled to the Mabita Scarlet Macaw Rescue Centre. He witnessed the results of training community patrollers who have now the tools to collect data of vulnerable spots where the scarlet macaws are nesting. As a result, nests have been protected, illicit incursions spotted, and official complaints filed working with the Honduran Armed Forces and the Environmental Prosecution Office.
Villagers have also benefited from sustainable livelihoods to prevent economic dependence on illegal wildlife trade. For example, the project subscribed conservation agreements with several communities such as Corinto, Wahabisban and Mabita, which provides seeds banks and staple food seeds that are planted and generate grains for food and for selling to local market.
Then Ambassador Whittingham travelled to Wampursirpi and Krausirpi to check on developments on new initiatives whose foundation was established by a DEFRA funded project focused to improve livestock management and agroforestry techniques implementation in local farms for economic-environmental stability in the Moskitia. The DEFRA project delivered key technical assistance for sustainable environmentally sound agricultural production techniques that are now being escalated into more complex agroforestry plots that incorporates Cacao as a way to increase indigenous families' income and reduce deforestation and loss of biodiversity.
Wildlife Conservation Society (WCS) implemented these projects working closely with Honduran local and central authorities. Whilst in La Moskitia, Ambassador Whittingham also visited other projects funded by the World Food Programme (WFP), which took him to visit Sirsitara, Tuburus and Puerto Lempira. By doing this, the United Kingdom reaffirms its interest to continue working with Honduras in addressing climate change, conserving global carbon sinks and other critical ecosystems.
Ambassador Whittingham highlighted that the United Kingdom will do this through the Biodiverse Landscapes Fund. This US$20 million initiative will help Guatemala, El Salvador, Honduras and Belize to protect biodiversity, face the impacts of climate change and reduce poverty for 7 years. Implementation of the Fund is expected to start at the end of 2022.