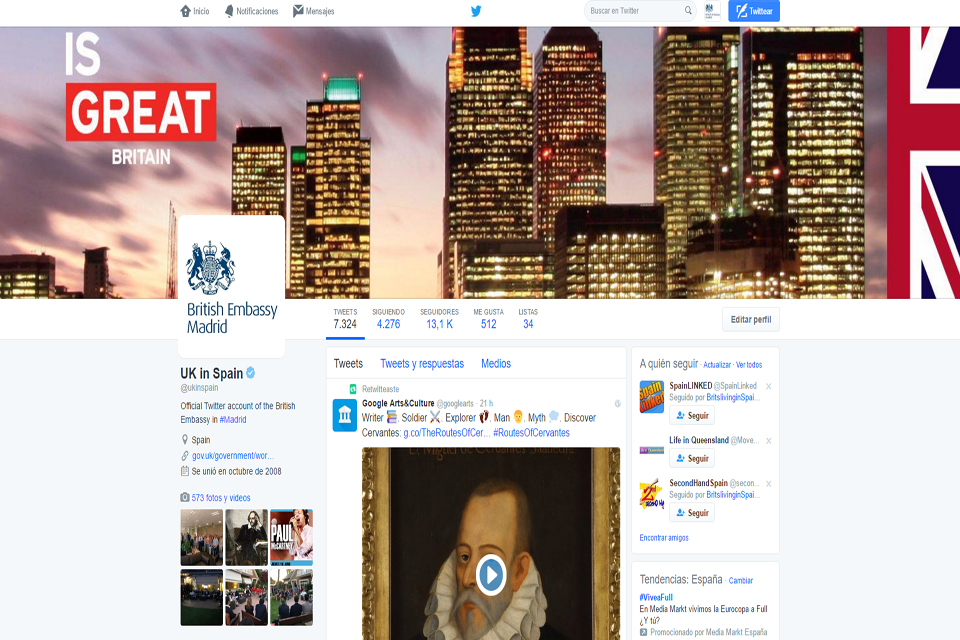 As social media continues to evolve into one of the most important ways to communicate online, we are developing a strong presence across a range of channels, making us more accessible, more open and more transparent in the way we communicate.
You can follow us on:
Facebook
Uk in Spain – follow our events, news and activities from the FCO and our partners (in Spanish and in English).
Brits in Spain – up to date advice and information from British Embassy in Madrid which is important for British residents living some or all the year in Spain.
Brits visiting Spain – planning a visit to Spain? We share with you information to help you have a great holiday without any of the hassle.
Twitter
Ukinspain: twitter.com/ukinspain – information for British nationals in Spain, news and activities from the FCO and British Embassy in Madrid and British consulates around Spain (in Spanish and in English).
Our Ambassador´s Twitter account @HughElliottUK
Our DHM´s Twitter account @TimHemmingsFCO
BritsvisitSpain: twitter.com/BritsvisitSpain – official Embassy channel aimed at reducing the proportion of Brits who encounter serious problems in Spain.
tradegovESP: twitter.com/UKTISpain – Information for British companies exporting to Spain and spanish companies investing in the UK.
SIN_Spain: twitter.com/Sin_Spain – UK Science and Innovation Network (SIN) in Spain. Promoting UK Spain science collaborations.
Flickr
www.flickr.com/photos/ukinspain – our events, our Ambassador's visits in pictures, Ministerial visits.
Youtube
www.youtube.com/user/ukinspain – watch our videos with UK Ministers, policy experts, case studies, and much more.
LinkedIn
DIT Spain group – this DIT LinkedIn group brings together trade and investment experts and businesses. It offers knowledge, insight and support, facilitating connections to help businesses achieve international success.
British Scientist in Spain: network to promote communication within the community of British scientists working in Spain and foster scientific collaboration between the UK and Spain, triggering partnerships between this community and public/private institutions linked to research.
Instagram
HughElliottUK – our Instagram account offers photos and short videos of Ambassador´s diplomatic activity.
UK in Spain – our official Instagram account following the activities of the British Embassy.