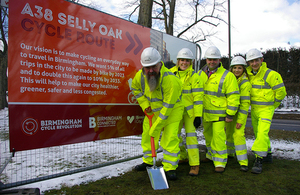 | | |
| --- | --- |
| | |
| Location of intervention | Birmingham |
| Contractor/delivery partner | Birmingham City Council |
| Scheme implementation dates | 2013 – 2018 |
| Cost of scheme | £52.9 million |
| Funding source | Birmingham received £39.1 million from the Department for Transport and £13.8 million from other sources |
| BCR | 2.29 |
Why we did it
The Cycling Cities Ambition (CCA) fund is part of the Cycling and Walking Investment Strategy. This is the delivery strategy for the government's commitment to switching more journeys to active travel to improve health, quality of life and the environment, and local economy. Data from the National Travel Survey shows that 13% of journeys under one mile are by car, increasing to 51% for journeys under 2 miles. This shows there is massive potential for increasing walking and cycling for short trips.
How we did it
The CCA funding was announced as part of the Department for Transport's cycle safety review. Its aim is to encourage more people to cycle as part of everyday journeys, as well as help ensure that our roads are as safe as possible for all who use them.
The programme provided grants to fund cycling infrastructure in 8 cities, or groups of cities, in England, including Birmingham.
What we did
Birmingham resurfaced 8 canal towpath cycle routes, created or improved over 15 miles of cycle routes across green space, signed 11 routes along quieter roads, implemented 20 mph zones across 16 square miles of roads, and distributed 7,000 bikes in disadvantaged communities.
Recently completed schemes include 4 miles of new segregated cycle track along 2 'A' road corridors, with new cycle parking due to be installed along these routes shortly to complement parking facilities already installed in the city centre.
There has been a comprehensive upgrade of 32 miles of canal towpaths; information totems were installed on a one mile route in the city centre, and access ramps were added at 8 locations.
What impact did it have
Between 2012 and 2017, cycling volume on the canal towpaths increased by 157%, whereas city-wide cycling volume increased by 32% – suggesting the canal towpath improvements had a positive impact on cycling levels.
Key figures
distributed 7,000 bikes in disadvantaged communities
4 miles of new segregated cycle track along 2 'A' road corridors
cycling volume on the canal towpaths increased by 157%