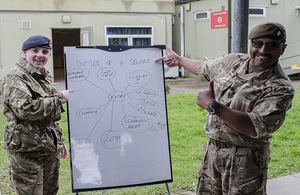 Ever thought of becoming an adult volunteer with one of Yorkshire's cadet units? Kal Singh explains why he loves doing his bit to help young people in his community.
Hospital worker Kal Singh, pictured right, helps to transform the lives of young people in his community through his role as a cadet force adult volunteer.
He is among the 1,300 volunteers who are the backbone of Yorkshire's cadet forces, inspiring and supporting young people in the region to thrive.
Kal, a former soldier who helps run Humberside and South Yorkshire Army Cadet Force's Ashby Detachment, Scunthorpe;
It's great to be able to give something back and to be able to offer our cadets opportunities that they would never get otherwise.

I began volunteering five years ago because I missed a lot of the activities you do when you're in the armed forces, such as map-reading, fieldcraft and running.

Just seeing the sheer enjoyment of the cadets when they learn something new is a reward in itself. I'm there to give them a hand and encourage them along the way.
Kal, who is responsible for maintenance at Scunthorpe District Hospital, devotes 2 evenings a week to his cadet unit, as well as running weekends away and annual camps.