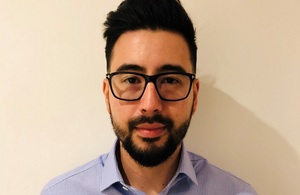 Felipe Basaglia is hoping his new national role will help give people working in chemical engineering across the country a better understanding of how they could benefit the nuclear industry.
Felipe, who works in our Effluent Management Strategy Team from our Warrington offices, has been voted in as Chair of the Institution of Chemical Engineers Nuclear Technology Special Interest Group.
He explains:
The group is all about increasing learning and experience of Chemical Engineers working in nuclear.

I know from my own point of view what working for Sellafield Ltd in a chemical engineering role has given me. It's so interesting, the Sellafield site offers a real challenge and no 2 problems are ever the same.

I see this role as being about bringing in fresh ideas, enthusiasm and innovation.

I've already been in touch with the Nuclear Institute and its Young Generation Network, the Society for Radiological Protection, Royal Society of Chemistry, Institute of Physics, as well as the Institutions for both Mechanical and Civil Engineers, to see how we can work together.

It is a real opportunity to reinvigorate discussion.
Published 9 June 2020