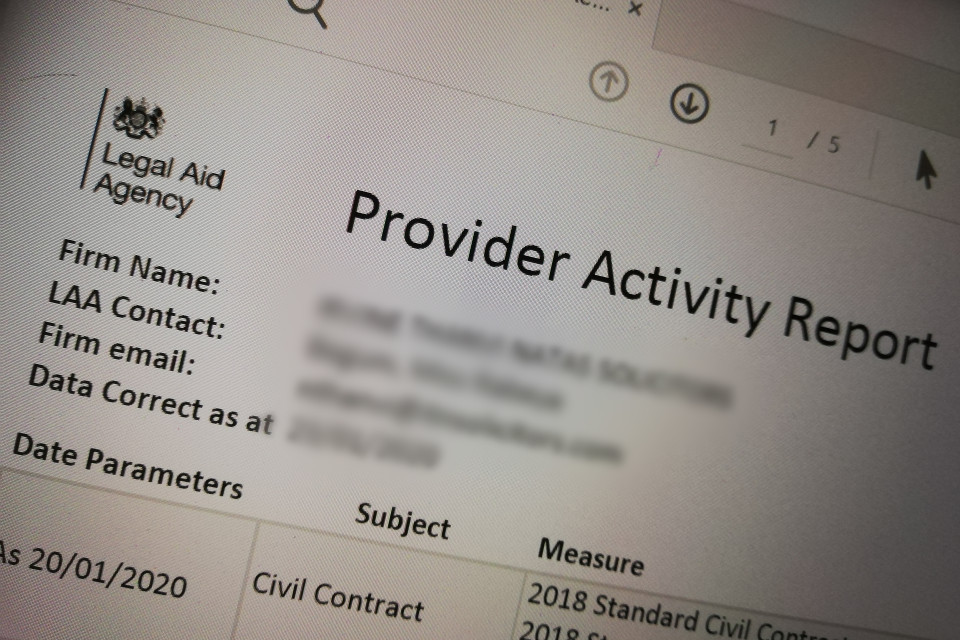 What do the reports show?
Each quarter we send you important information about contractual performance in a 'Provider Activity Report' (PAR). Examples include:
Defence Solicitor Call Centre acceptance rates

rejects for claims submitted

reconciliation statistics for standard and variable monthly payments
Why do you do this?
Your PAR is important to how we manage your contract and we want to be transparent about the information we hold.
The idea is to give providers the opportunity to review and monitor changes in performance using the same information that we hold.
You should already be familiar with the content of these reports through discussions with your contract manager.
We developed the reports in partnership with legal aid providers. This has allowed us to refine the reports and our approach to sharing them.
The idea was to make the reports as easy to use as possible. We also wanted to ensure contract managers were equipped to answer detailed questions and address concerns at their annual visits.
Who receives the reports?
The reports are emailed to the designated primary contact email address we hold for your office in Contracted Work and Administration (CWA).
How can I check you have the right email address?
You can check the designated primary contact email address we hold for you by going into the CWA system.
There is a user guide on GOV.UK which sets out how to check and amend this information – see below.
Further information
CWA detailed user guides – download 'CWA user guide admin' and see page 7 'Primary Contacts'