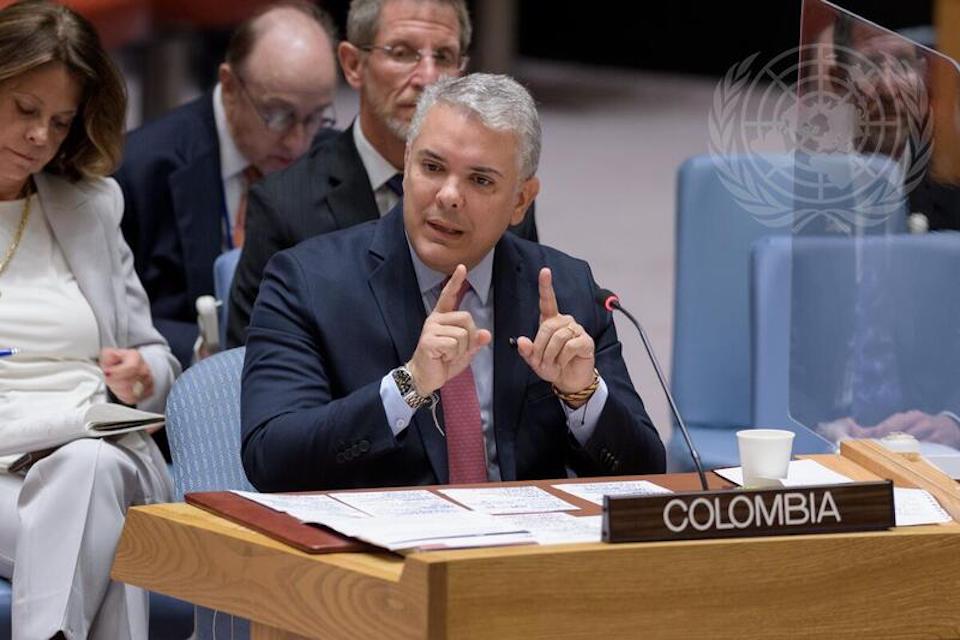 My thanks to Special Representative Ruiz Massieu for your detailed briefing and insights.
I would like, once again, to extend a particularly warm welcome to President Duque and thank him also for his very detailed remarks and insights on the situation in Colombia. Your Excellency, Mr President, your presence here today testifies to the importance you place on the role of the UN, and the Security Council, in supporting Colombia on its journey towards lasting and sustainable peace.
It has been a privilege for the UK to work alongside Colombia, and I offer my congratulations to you Mr President, to the parties, and to the Colombian people, for the progress that has been achieved, just over five years since the signing of the peace agreement. We recognise the investment the Government has made during this time to support the reintegration of former combatants into civilian life.
Colombia serves as an important example, that an enduring resolution of differences is only possible through peaceful dialogue.
During the past quarter, as we have heard again today, we have continued to see some significant progress in the implementation of the Peace Accord.
As the report notes, this year is a real turning point for the transitional justice system, and its three components continue to advance in their crucial work.
We look forward to seeing the final report from the Truth Commission in June, and the first sentences being handed down by the Special Jurisdiction for Peace. We recognise the fundamental importance, as part of this process, of perpetrators acknowledging their crimes before the victims themselves. And we share the Secretary-General's confidence in the fortitude Colombians will continue to show, as they confront a painful past in order to move towards healing and reconciliation.
Notwithstanding the important progress made, our concerns remain for groups that continue to be disproportionately affected by violence, displacement and confinement. In this regard, as we've heard from SRSG Massieu today, we continue to be alarmed by the increase in violent incidents and insecurity in several areas, which has claimed the lives of former combatants, social and environmental leaders, human rights defenders, women leaders and those from indigenous and Afro-Colombian communities.
In my capacity as the UK's Special Representative for Preventing Sexual Violence in Conflict, I saw directly when I engaged with the representatives of these groups in a virtual visit in late 2020, the powerful insights they provided in this respect.
I am sure I speak for all colleagues when we say we were shocked and saddened by the murder of Jorge Santofimio in Putumayo. His commitment to environmental protection and peace had made him a real example of the benefits that come through successful reintegration.
To address this violence, we urge the Government to continue to expand its efforts to provide adequate protection and security, improve state presence in conflict-affected areas, as we've heard today, and strengthen the institutions that can investigate and prosecute those responsible for these crimes.
While challenges to full implementation remain, as we heard from His Excellency President Duque, there has been progress. The election of 16 victims into special 'peace seats' in Colombia's House of Representatives really does represent a historic step forward. It presents an opportunity to widen the democratic participation of victims and the communities most affected by conflict. We also welcome the restorative justice mechanisms that have been introduced.
As Colombia looks ahead to the Presidential elections next month, we again call on all political stakeholders to ensure that these elections will be peaceful and inclusive, and that elected parties maintain their commitment to the full implementation of the peace agreement.
In conclusion, Colombia's experience shows us the importance of holistic and inclusive approaches to building and sustaining peace, as well as the real value of engaging the UN's full peacebuilding architecture, including the Peacebuilding Commission and the Peacebuilding Fund to catalyse international support.
For our part, the UK remains fully committed to supporting the Peace Process in Colombia, as all parties continue on their path to lasting peace. We will continue to look to consolidate, to strengthen and to build upon the gains achieved thus far.