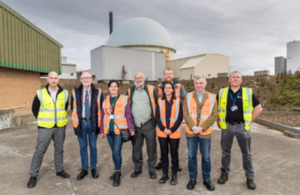 On 3 September, a small delegation of the Committee on Radioactive Waste Management (CoRWM) visited the Dounreay site to receive an update on the treatment and storage of higher activity radioactive wastes at the nuclear site.
Members received a number of presentations on progress being made to decommission the site and in particular the proposals for recovering and treatment of the radioactive waste around the Shaft and Silo.
They also took the opportunity to revisit the Dounreay Cementation Plant, the Intermediate Level Waste stores, and the Low Level Waste disposal facility operating successfully since its opening in 2016.
Sir Nigel Thrift, Chair to the CoRWM commented on "the impressive levels of commitment and professionalism of the whole team at Dounreay" adding "how useful the visits are in understanding the practical delivery of a highly complex programme of decommissioning".
Photo credit: Dounreay Site Restoration Ltd (DSRL).
Published 11 September 2019