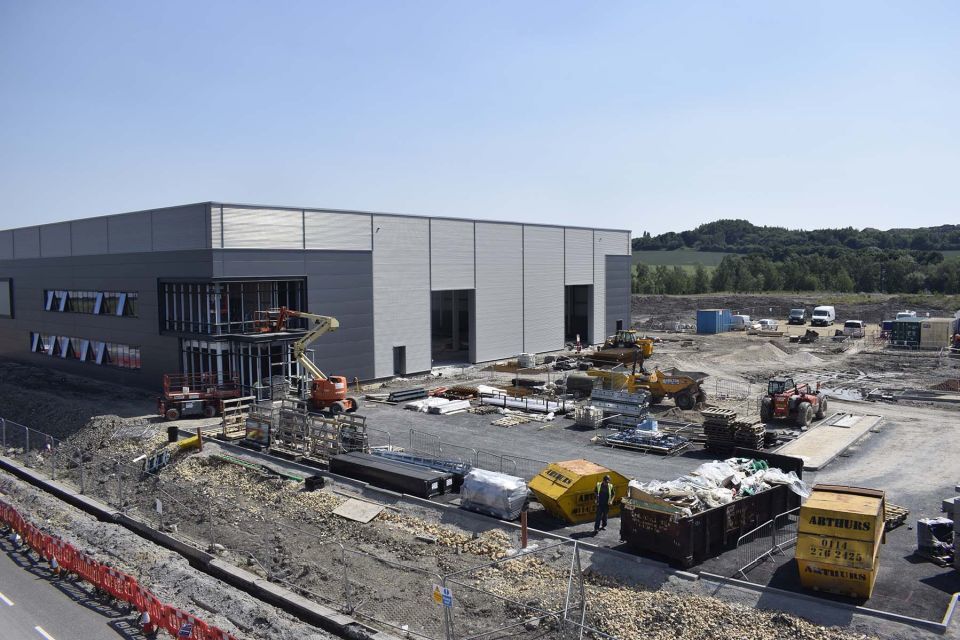 External construction of the new Fusion Technology facility in South Yorkshire is complete, with the building being handed over to UKAEA in September to begin the second phase of fit-out.
The £22m building in Rotherham is strategically placed to engage industry in commercial fusion development.
Located at the heart of the UK's advanced manufacturing region, it will bring 40 initial jobs to the area, and foster increased collaboration with research organisations including the University of Sheffield Advanced Manufacturing Research Centre, the Nuclear Advanced Manufacturing Research Centre, and The Welding Institute.
The 25,000 sq. ft facility – sited at the Advanced Manufacturing Park – will join other companies on site including Rolls-Royce, McLaren Automotive, and will capitalise on industry experts in the region.
The key role of the new Rotherham facility will be to develop and test technologies for fusion materials and components – for example novel metals and ceramics. These will then be tested and evaluated under conditions simulating the inside of a fusion reactor (including high heat flux, in-vacuum, and strong magnetic fields).
The site will help UK companies win contracts as part of ITER – the key international fusion project being built in the south of France. Looking further ahead, it will enable technology development for the first fusion power plants, which are already being designed.
Damon Johnstone, Head of UKAEA Yorkshire, said: "We are delivering the new facility at pace, with major milestones on building mobilisation and recruitment for the new facility proceeding to plan. There are exciting times ahead; the Fusion Technology facility in Rotherham will be unique in the world and as well as delivering cutting-edge R&D it will help to seed the development of a UK supply chain for fusion. The welcoming of UKAEA to the Advanced Manufacturing Park has been exceptional and is a credit to Sheffield and Rotherham councils, the Sheffield City Region Local Enterprise Partnership and developers Harworth Ltd.
"We can't wait to get going and have no doubt the hub of manufacturing excellence being created in the area will prove to be of great importance to the commercialisation of fusion power."
Find out more at: https://ccfe.ukaea.uk/technology/fusion-technology/
Dan Jarvis, Mayor of the Sheffield City Region:
The Sheffield City Region is a growing hub of innovation, expertise, and knowledge. Building a low-carbon future is one of the most important goals we can use those strengths to achieve. As we look to rebuild and renew following the pandemic, this facility will create new skilled jobs and opportunities for collaboration with nearby research centres and other businesses as specialist suppliers, boosting the region's economy and highlighting our world-leading specialisms in advanced manufacturing.
Councillor Denise Lelliott, Rotherham Council's Cabinet Member for Jobs and the Local Economy:
The UK Atomic Energy Authority building is a fantastic facility, which is currently being developed on the Advanced Manufacturing Park. The facility is situated at the heart of the UK's advanced manufacturing region which continues to go from strength to strength. This is great to see in Rotherham and the Sheffield City Region as we look to grow the local economy, employment opportunities and skills for our local residents.
Councillor Mazher Iqbal, Cabinet Member for Business and Investment at Sheffield City Council:
It's fantastic news that UKAEA will soon be opening their new facility in our region and I'm very pleased to welcome them to South Yorkshire. Their arrival is a huge vote of confidence for our region and testament to the excellent skills, infrastructure and research on offer here. I'm really pleased that UKAEA has stated that they aim to engage with local companies to ensure that they are aware of future supply chain opportunities. Their presence will create fantastic opportunities for the people and businesses of Sheffield and our surrounding areas. We continue to see Sheffield becoming the location of choice for prosperous inward investment and UKAEA's decision to base its Yorkshire facility in our region further emphasises the renowned success and growth we have seen in recent years.
James Muir, Chair of the Sheffield City Region Local Enterprise Partnership:
The UKAEA development will create new skilled jobs at the site and throughout the local supply chain, giving our regional economy a significant boost. This is a positive move for the wider region and the North itself, as we get on with the job of leading our economy into recovery.