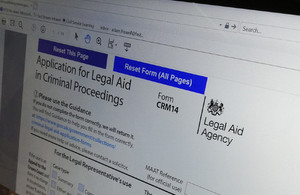 New Stalking Protection Orders are being introduced on 20 January 2020 and will be in scope for legal aid work. So, it is important to note the arrangements for applications and billing.
These are civil orders which will be applied for by the police. However, the making, varying, renewing or discharging of an order will all come under criminal legal aid.
As a result, representation orders will be needed for the client to be represented with the benefit of legal aid. So, providers will need to follow criminal legal aid processes for the purposes of applications and billing.
How does this affect my work?
You will need to refer to:
Criminal Legal Aid Manual

Criminal Bills Assessment Manual

Consideration of Defence Representation Order Applications
We will also include the change in the Crown Court fee guidance when we next update it.
Further information
Criminal Legal Aid (General) (Amendment) Regulations 2020
Legal Aid guidance – to download Criminal Bills Assessment Manual
Published 20 January 2020