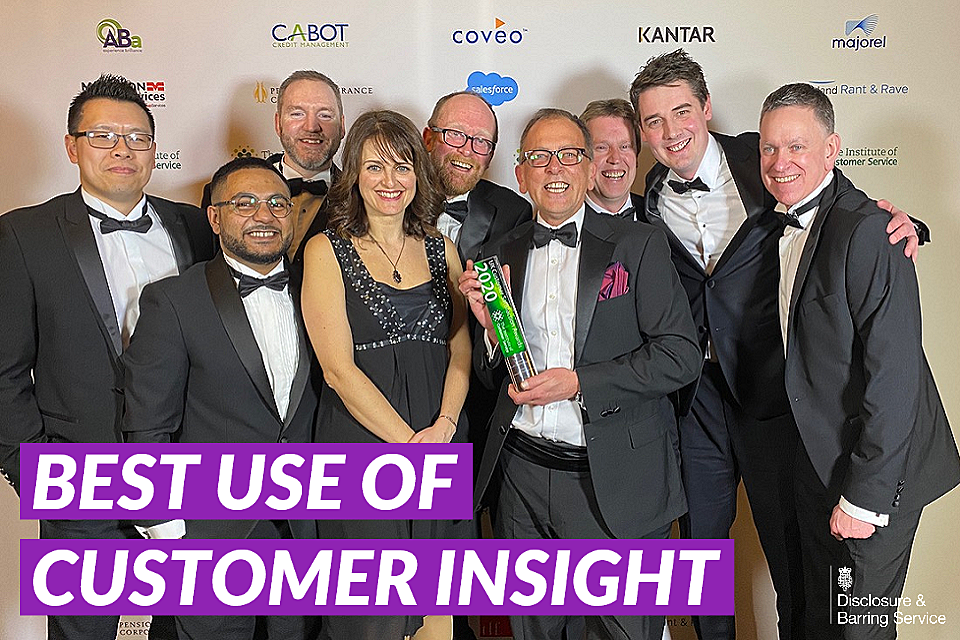 The Disclosure and Barring Service (DBS) were nominated as finalists in two separate categories at the UK Customer Satisfaction Awards. The awards are hosted by the Institute of Customer Services, and are the only customer service awards run by the professional body for customer service.
DBS were named as finalists in two separate categories – Best Use of Customer Insight, and Customer Satisfaction Innovation of the Year. We are incredibly pleased to announce that our Digital Team won the Best Use of Customer Insight award.
The team put users and their needs at the heart of everything they do, and explain that their 'customer insight strategy is central to the online basic check service'.
The team's use of customer insight provides an in-depth understanding of DBS users at each stage of the online journey, and they are able to respond quickly to changing user needs, to ensure the online experience is continuously at a high standard, and that the service meets user needs.
DBS Digital have regularly iterated and improved the online service since it was originally launched in January 2018, and as a result of implementing their Customer Insight Strategy, customer satisfaction has increased from 76% to over 93%!
A huge congratulations to the Team!
A full list of winners and finalists from the awards can be found here.