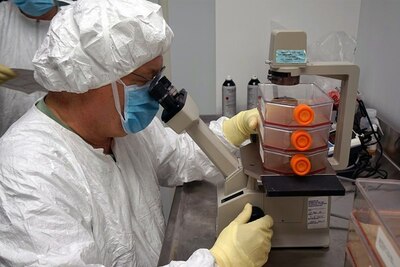 Mosquitoes aren't just an annoyance at summer barbecues. In many parts of the world, they carry pathogens, including West Nile virus, chikungunya, Japanese encephalitis Zika, dengue, yellow fever and malaria.
Until the 1950s, there were outbreaks of malaria in the United States, said Navy Lt. Cmdr. James C. Dunford. Improved sanitation and mosquito monitoring and control are why it's rare today, he said.
Lyme disease is more of a problem here, he said, noting that it's the No. 1 vector-born disease. Ticks, which transmit the disease, should be pulled off the skin, he said, and the sooner the better.
Dunford and James J. English, both entomologists and assistant professors in the Uniformed Services University's Department of Preventive Medicine and Biostatistics, spoke at a Military Health System Bug Week media roundtable in Falls Church, Virginia, yesterday to highlight the Defense Department's efforts to combat the effects of bug-borne illnesses around the world.
The entomologists explained some of the preventive measures the military is employing to protect its forces here and abroad, noting that these measures are effective against both ticks and mosquitos.
For troops traveling overseas to areas where mosquito diseases are prevalent, chemoprophylaxis is prescribed, Dunford said.
English said troops' uniforms are among the first line of defense. They are instructed to wear long sleeves and to use boot bands so insects can't get inside their trousers.
Additionally, English said, their uniforms are impregnated with Permethrin, which repels insects. It lasts a long time, even with repeated washings, but the Defense Department is working on a new class of chemicals that will last even longer on uniforms.
Besides Permethrin, troops are instructed to use DEET on their skin. English noted that DOD developed DEET decades ago. The problem with DEET, he said, is that it is destructive to plastics, and when it's mixed with sweat, it burns the eyes. As a result, DOD approved the use of Picaridin, which is just as effective as DEET. Recently, DOD also approved IR3535 as a DEET substitute.
Another effective strategy, Dunford said, is to remove standing water. Mosquitoes usually don't travel further than a few hundred yards, he said, so that's an effective way to stop them from breeding locally. They can breed in as little water as found in a bottle cap.
MHS Bug Week concludes tomorrow. It is designed to educate people about the role of bugs in their health and safety, including prevention of bug-borne illnesses and treatment options, officials said.