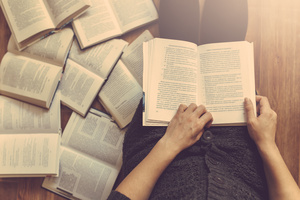 The Competition and Markets Authority (CMA) is concerned that the loss of competition brought about by the proposed merger could result in university textbooks costing more.
McGraw-Hill and Cengage are two leading publishers, producing textbooks and associated materials, for higher education students.
Joel Bamford, Senior Director of Mergers at the CMA, said:
"Record numbers of people are looking to go to university with more than 700,000 applying in 2019. This reinforces just how important it is that we look at this deal.
"This proposed merger would bring together two important suppliers in the UK and could lead to students paying more for essential textbooks and educational materials."
Throughout its Phase 1 investigation, the CMA identified that both companies produce materials across a wide range of subjects in the UK. It looked at where McGraw-Hill and Cengage overlap, finding 379 courses where both companies offered textbooks.
The CMA assessed the effect of the merger on individual courses based on market shares, the companies' own documents and feedback from retailers, lecturers and publishers. The CMA identified 51 courses of concern where McGraw-Hill and Cengage would have high combined market shares – in some cases more than 80% – or where there would otherwise be very limited competition after the deal went ahead.
Both companies are headquartered in the United States but operate across the world. The CMA has worked closely with the US Department of Justice and the Australian and New Zealand competition agencies in scrutinising this deal.
McGraw-Hill and Cengage must now address the CMA's concerns within 5 working days. If they're unable to do so, the merger will be referred for an in-depth (Phase 2) investigation.
For more information, visit the McGraw-Hill Education / Cengage Learning Holdings merger inquiry page.
Published 10 March 2020
Last updated 10 March 2020
+ show all updates
10 March 2020

First published.