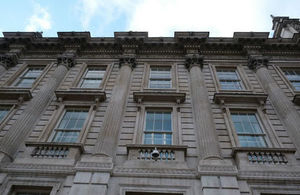 Elizabeth Gardiner CB, First Parliamentary Counsel and Permanent Secretary, is to be appointed Queen's Counsel (QC) Honoris Causa in the 2020 QC appointments.
The rank of QC Honoris Causa is awarded to lawyers and legal academics who have made a major contribution to the law of England and Wales outside practice in the courts.
Elizabeth has been recognised for her 20 years of work as a legislative drafter and her more recent leadership of the Office of the Parliamentary Counsel; for her work in improving the quality of modern legislation and tackling the causes of unnecessary complexity; for her work to build the parliamentary knowledge and capability of all civil servants; and for her work on diversity and inclusion.
Elizabeth became the first woman to hold the position of First Parliamentary Counsel when she took up the post in the Cabinet Office in 2015.
Elizabeth says:
I am extremely honoured by this award. It is a great privilege to lead the Office of the Parliamentary Counsel and work alongside committed colleagues who are dedicated to the work they do and to the public service. Legislative drafting is a little known area of legal work. I am fortunate to have stumbled across it 30 years ago. It has proved to be a career which offers interest and challenge in equal measure against a fascinating background of politics and law.
Published 17 January 2020