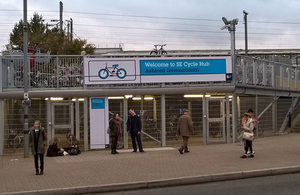 | | |
| --- | --- |
| | |
| Location of intervention | Various towns and cities across England |
| Contractor/delivery partner | Rail Delivery Group (from 2012/13 to 2018/19), Sustrans (from 2019/20 to present) and various train operators |
| Scheme implementation dates | 2012 to present |
| Cost of scheme | Rounds 1 to 4a – £34 million, Round 5 – £6.8 million |
| Funding source | Department for Transport and at least 10% local contribution (including Local Authorities and Train Operators) |
| BCR | Average of 3.6 |
Why we did it
In 2017 the government committed to improving cycle facilities at stations. The Cycle Rail scheme aims to promote economic growth, improve journeys, and encourage environmentally friendly transport to cut carbon. Facilitating cycle journeys to stations is an effective way to encourage greater active travel.
How we did it
The Cycle Rail programme improves cycling access to stations and increases sustainable journeys by funding installation of cycle racks, security systems, ramps and cycle paths.
What we did
48 applications were successful in round 5 of the scheme. The schemes were based on good value for money with 71% achieving a high or very high value for money.
The Cycle Rail scheme has created around 22,000 new parking spaces with a further 2,367 planned in Round 5. These works are spread across over 200 stations UK-wide.
For example, Cycle Rail funding has enabled the construction of a new cycling hub at Ashford International station, providing secure bike parking for 96 bikes and freely-available parking for a further 220.
What impact did it have
National Rail have found that since 2010 the number of cycle-rail journeys in which a bicycle is parked at the station has increased by 75%.
At Ashford International there are now around 300 to 350 bikes parked at the station on typical weekdays compared to around 100 bikes earlier in the decade.
Positive outcomes of the scheme include; health improvements and associated NHS savings, improved journey quality, and decongestion benefits from the mode shift.
East Midlands Trains won awards at the National Cycle Rail Awards for their use of scheme funding. £1.15 million has been invested at Sheffield station over numerous rounds of cycle rail funding and Sustrans have calculated the number of people using cycling to commute in Sheffield has increased by 80% in the last decade.
Key figures
number of people using cycling to commute in Sheffield has increased by 80%
75% increase in bikes parked at the station
£1.15 million has been invested at Sheffield station