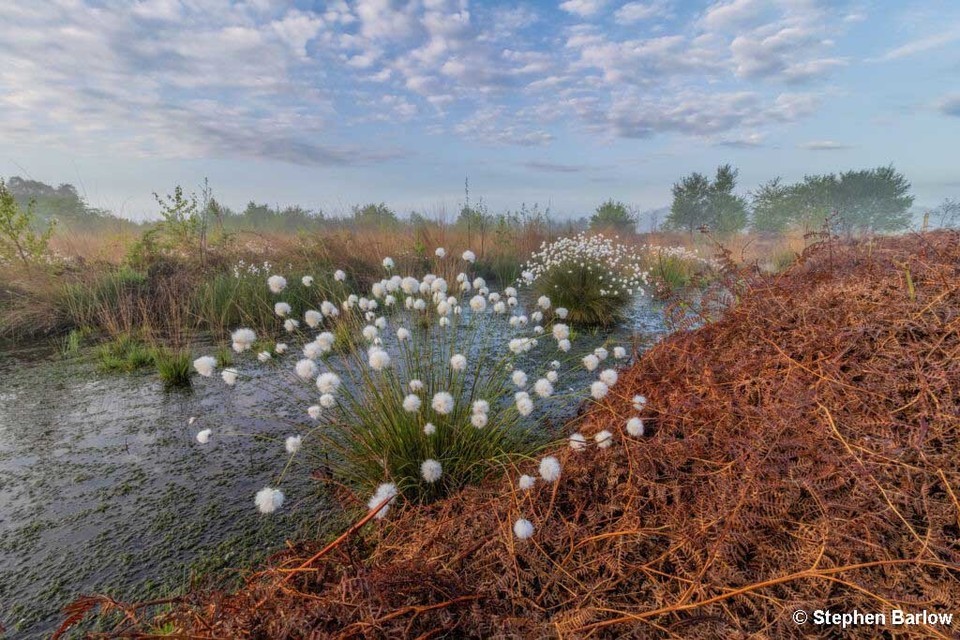 A new environmental arts project will celebrate rare natural wetland environments from opposite sides of the planet.
The Fenn's, Whixall and Bettisfield Mosses National Nature Reserve, which is managed by Natural England, will be one of the sites of focus for this unique and exciting project.
New artworks for a public exhibition will be produced along with further arts-based events developed in partnership with the local community.
Two of the world's most famous wetland areas are joining forces to celebrate their rare natural environments in a unique arts project. One is the Fenn's, Whixall and Bettisfield Mosses National Nature Reserve, which is managed by Natural England, located on the border between Shropshire and Wrexham. The other is Macquarie Marshes in New South Wales, Australia.
The Fenn's, Whixall and Bettisfield Mosses National Nature Reserve has been undergoing restoration work thanks to the BogLIFE Project, a partnership between Natural England, Natural Resources Wales and Shropshire Wildlife Trust, which is restoring the Marches Mosses, as they are collectively known, back to nature. The Arts Council and National Lottery funded project will celebrate this work through artists Andrew Howe and his Australian colleague Kim Goldsmith. They will lead the project exploring the environmental challenges faced on opposite sides of the planet.
Andrew Howe said:
We are delighted and hugely grateful to the Arts Council England and the National Lottery for this funding. It will enable us to work with other artists and local partners such as Wem Youth Club and Shropshire Wildlife Trust.
Andrew and Kim will explore some of the hidden values of the wetlands, those values sometimes not considered in the fight to save them. This will lead to the development of new artworks for a public exhibition at Qube Gallery, Oswestry in October 2021 with further arts-based events developed in partnership with the local community
The BogLIFE Project Manager, Robert Duff of Natural England said:
With the recent focus on the importance of nature, this is a great opportunity for the Marches Mosses BogLIFE Project to gain wider recognition by spreading the message about environmental restoration through this wonderful arts venture. We look forward to working in partnership with the artists.
The Mosses are the third largest raised bog in the United Kingdom and are a key to preventing climate change by holding 24 million tonnes of carbon. Healthy peat locks carbon in, holding more carbon, acre for acre, than woodland. But if peat is allowed to dry out, or is cut for burning or garden compost, the carbon is released into the atmosphere as CO2, thus adding to the climate crisis. Peat is 90% water, making the Mosses a natural protection against flooding – slowing the flow downstream.
Notes to editors
About Natural England
Established in 2006, Natural England is the government's independent adviser on the natural environment. Our work is focused on enhancing England's wildlife and landscapes and maximising the benefits they bring to the public.
About National Nature Reserves (NNRs)
There are 224 NNRs in England, 143 of which are managed entirely or in part by Natural England and cover some 66,000ha. The NNRs include some of England's most important and rich sites for wildlife and geology. Almost all NNRs are accessible and provide great opportunities for people to experience nature close up.
Fenn's, Whixall and Bettisfield Mosses NNR Straddling the English border, near Whitchurch in Shropshire and Wrexham in Wales, lies one of the biggest and best raised bogs in Britain. Its astonishingly varied wildlife makes it a place of international importance.
Under the Marches Mosses BogLIFE Project, from October 2016, Britain's third largest lowland raised bog, which includes Fenn's, Whixall & Bettisfield Mosses, and Wem Moss National Nature Reserves, near Whitchurch and Wrexham, will see a step change in its rate of restoration back to being one of Europe's finest wildlife sites, benefiting internationally important bog plants and animals.
The ambitious 5 year, multi-million pound package of improvements will be delivered over the next 5 years in a partnership led by Natural England, together with Natural Resources Wales and Shropshire Wildlife Trust. The funding will pay for the acquisition of a further 63 hectares of peatland, and enable water levels to be raised over 600 hectares to improve the raised bog habitat. New restoration techniques such as contour bunding will be utilised to help the Mosses retain more water and prevent the peat decaying further, helping to counteract the effects of climate change, and also aims to restore swamp, fen, willow and alder carr wet woodland, habitats missing from the edge of the bog. Pollution at the scrapyard will be cleared up and new visitor facilities created. The project is funded by EU LIFE and the National Lottery Heritage Fund.
Natural Resources Wales
Natural Resources Wales champions the environment and landscapes of Wales and its coastal waters as sources of natural and cultural riches, as a foundation for economic and social activity, and as a place for leisure and learning opportunities. It aims to make the environment a valued part of everyone's life in Wales.
Shropshire Wildlife Trust
Shropshire Wildlife Trust is a conservation charity established in 1962 to conserve and protect Shropshire's wildlife. This is achieved by directly conserving wildlife and habitat, undertaking research and reconnecting people with wildlife.
Arts Council
Arts Council England is the national development agency for creativity and culture. We have set out our strategic vision in Let's Create that by 2030 we want England to be a country in which the creativity of each of us is valued and given the chance to flourish and where everyone of us has access to a remarkable range of high quality cultural experiences. We invest public money from Government and The National Lottery to help support the sector and to deliver this vision.
Following the Covid-19 crisis, the Arts Council developed a £160 million Emergency Response Package, with nearly 90% coming from the National Lottery, for organisations and individuals needing support. We are also one of the bodies administering the Government's unprecedented £1.57 billion Culture Recovery Funds. Find out more on our website