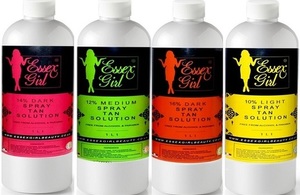 | About Essex Girl Beauty | |
| --- | --- |
| Region | Essex |
| Sector | Beauty and cosmetics |
| Export destination | Europe, USA, Canada |
| UKEF support | Export assist: impartial guidance |
Beauty product retailer, Essex Girl Beauty, has increased its revenue by 50% as a result of support from UK Export Finance (UKEF) and the Department for International Trade (DIT).
The company's founder, Michelle Lauren, was helped by DIT who put her in touch with one of our regional network of export finance managers at UKEF once the business struggled to make ends meet after its initial success.
An export assist
With 35% of Michelle's sales going to export markets in Europe, the United States and Canada, the company faced cash flow restrictions. This meant she had to make a quick return on her existing stock before ordering new products.
Michelle turned to Craig Green, her local UKEF export finance manager. Together they explored what products were available from her bank before Craig arranged introductions with the relevant people.
Michelle Lauren, founder and director of Essex Girl Beauty, said:
As soon as I explained my situation, it was clear that UKEF really understood my business and what export finance products were needed to help my business grow and thrive. The connections and introductions Craig made have been instrumental in helping me buy more stock and sell more both in the UK and abroad.
Craig Green, UKEF export finance manager for Hertfordshire, Buckinghamshire and Essex, said:
There's lots of support out there for entrepreneurs who want to export more and grow their businesses. Alongside trade finance from the traditional high street banks, there is a range of alternative financial support available, including peer-to-peer lending and crowd funding.
Get the Exporters' Edge
Putting the right finance and insurance in place can give you the exporting edge, helping you to win contracts, fulfil orders and get paid.