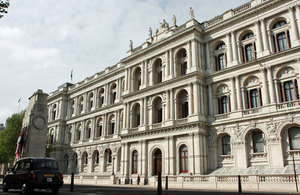 FCO spokesperson:
The UK is deeply concerned about the ongoing campaign of intimidation by the Maduro regime in Venezuela against members of the country's democratically elected National Assembly.

On 16 December, the Venezuelan Supreme Court stripped the parliamentary immunity of four more members of the National Assembly – Jorge Millán, Hernán Alemán, Carlos Lozano and Luis Stefanelli. This brings the number of members of the Assembly sitting in opposition to the regime who have had their right to immunity removed to twenty-nine. The National Assembly is Venezuela's only remaining democratically elected institution, and the parliamentary immunity of all of its members should be respected.

We support the effective implementation of the EU sanctions regime on Venezuela. Sanctions are an appropriate and necessary part of the international response to the crisis that an illegitimate and brutal regime has created and that is having such a terrible impact on the Venezuelan people and detrimental effect on the whole region.

The UK shares the desire for a peaceful and speedy resolution to the current crisis in Venezuela. We support the demand made by interim-President Juan Guaidó and the National Assembly for democratic transition through free and fair Presidential elections in accordance with the Venezuelan Constitution and international democratic standards.
Further information
Published 20 December 2019