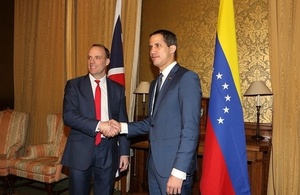 Foreign Secretary Dominic Raab met the Venezuelan interim-President Juan Guaidó at the Foreign Office to discuss the current political crisis in Venezuela.
Following the meeting, Foreign Secretary Dominic Raab said:
The people of Venezuela have suffered long enough. They deserve a better future. We condemn what the Maduro regime is doing to threaten democracy and we support Juan Guaidó's efforts towards a peaceful and democratic resolution. In our meeting today I pledged our unwavering support to work with our international partners to bring an end to the appalling crisis.
Further information
Published 21 January 2020