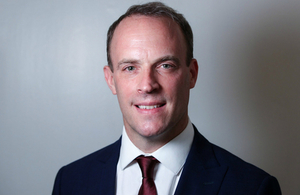 Foreign Secretary Dominic Raab said:
I send my warmest wishes to the British Jewish community and to Jewish communities around the world for the Jewish New Year and high holidays.

Rosh Hashanah is a special time to reflect. This year many will reflect on the 75th anniversary of the liberation of Auschwitz-Birkenau and Bergen Belsen. My father grew up knowing that the loved ones he left behind when he fled Czechoslovakia were systematically slaughtered for one simple reason. They were Jews.

I would like to reassure the Jewish community in the UK and worldwide: the UK is committed to your safety and wellbeing, and stands alongside you in the fight against racism and intolerance.

I thank the community for their invaluable contribution to the UK and to our heritage, and wish you all a happy and peaceful new year. Shana Tova and Chatima Tova!
Further information
Published 27 September 2019