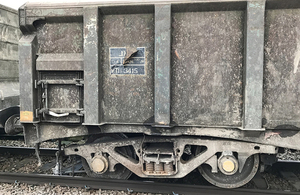 At around 06:00 hrs on Thursday 23 January 2020, a freight train travelling from Barking to Calvert derailed on a bridge near Wanstead Park station. The train, comprising a class 66 locomotive and 22 wagons carrying construction soil, then travelled about 2.5 miles (4 km) before the braking system indicated a possible problem to the driver. The train was stopped between Leyton Midland Road and Walthamstow Queens Road stations with one wheelset on the 16th wagon derailed. The derailment resulted in extensive damage to the track, other railway infrastructure and the wagon.
Our investigation will identify the sequence of events which led to the accident and the factors that contributed to its consequences. It will include consideration of:
the condition, inspection and maintenance of the track, including the longitudinal bridge timbers supporting the rails
wagon condition, inspection, maintenance and loading
any underlying factors
Our investigation is independent of any investigation by the railway industry or by the industry's regulator, the Office of Rail and Road.
We will publish our findings, including any recommendations to improve safety, at the conclusion of our investigation. This report will be available on our website.
You can subscribe to automated emails notifying you when we publish our reports.
Published 5 February 2020