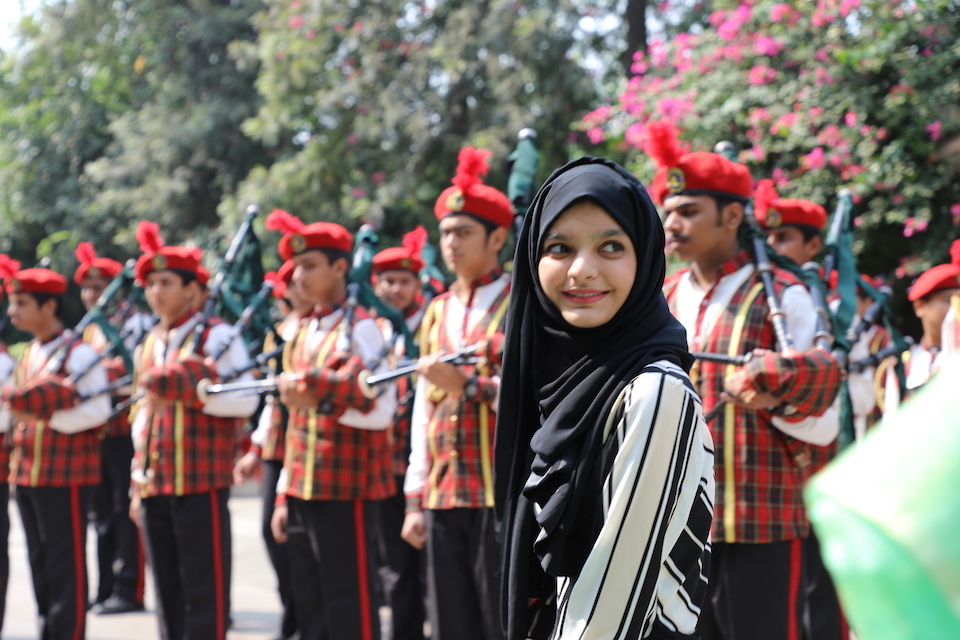 She spent the day overseeing the UK's largest overseas network, chairing briefing sessions, networking with dignitaries and meeting project beneficiaries.
Now in its third year, the 'High Commissioner for a Day' competition is a celebration of the 11 October 'International Day of the Girl Child' and was open to Indian women aged 18 to 23. As part of the selection process, applicants were asked to record a one-minute video on why gender equality is important and whom they see as their biggest gender equality inspiration. The competition saw an overwhelming response with applications received from across 14 states.
High Commissioner for the Day, Ayesha Khan said:
My day was pretty hectic but also really fun and I got to learn a lot. Leading daily briefings, interacting with stakeholders from the UK and India, and experiencing the richness of multi-culturalism has been a great experience. I believe education is a powerful tool that can help achieve gender equality.

I have been following the past winners of this competition and I thank the British High Commission for giving me this opportunity.
Deputy High Commissioner for the Day (on other days, British High Commissioner to India), Sir Dominic Asquith said:
I greatly enjoyed working for and with Ayesha for the day. She spoke articulately, passionately and convincingly on this important issue. I hope she found the experience as rewarding as I did personally. I wish her success – her ability clearly indicates a bright future.

I am delighted that we were able once again to celebrate this important occasion by demonstrating to young women from all walks of life that anything is possible, and by giving them the opportunity to realise their potential. The UK and India are working together as a joint force for good in the world and we share with India the importance of promoting the cause of gender equality. I hope this initiative will capture people's imagination around India – whether they live in big cities or small villages.
Further information
Ayesha Khan was High Commissioner for a Day on Friday 4 October. Over the course of the day, she:
visited Apeejay School in Pitampura where the British Council is implementing the 'Changing Moves Changing Minds' programme to promote gender positive roles using dance and cricket
met women working in Delhi's unorganised sector and learn how they are supported by SEWA
hosted a discussion with a beneficiary of Facebook's GOAL (Going Online as Leaders) programme
met leaders from business, foreign policy and civil society
Ms. Khan holds a Bachelors in Journalism and Mass Communication from SGTB Khalsa College in Delhi University and a Postgraduate Diploma from Bharatiya Vidya Bhavan. She is currently pursuing a Masters in Mass Communication from Guru Jambeshwar University. She is passionate about human rights, equality and non-violence. She believes in the power of education and aspires to work in the education sector or study law and become a human rights advocate.
High-resolution images from Ms. Khan's day as the High Commissioner can be downloaded from the UKinIndia Flickr page.
Improving the lives of girls and women is one of UK's top priorities for development around the world, including in India. Examples of ongoing programmes include:
promoting positive gender roles in schools in Delhi, Mumbai, Chennai and Odisha, reaching 300,000 students and 3,000 teachers in government and private schools
promoting greater integration using football, in partnership with the English Premier League, among adolescent girls from socio-economically marginalised communities
For media queries, please contact:
Nicholas Duvivier, Head of Campaigns/Deputy Head of Communications
Press and Communications, British High Commission,
Chanakyapuri, New Delhi 110021
Tel: 24192100; Fax: 24192400
Mail to: Ashwamegh Banerjee
Follow us on Twitter, Facebook, Instagram, Flickr, Youtube, Eventbrite and Blogs