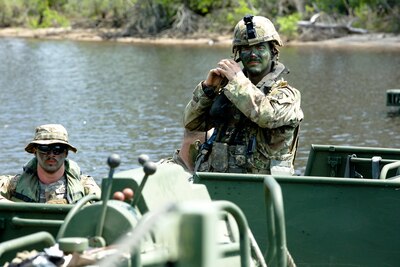 Michael Lewis, the sheriff of Maryland's Wicomico County, says that when people join the military, the community supports them in that choice.
In fact, he said, America's freedom and security depend on these men and women serving and protecting America's national security.
"It's also important that we as employers encourage them to serve and do everything we can to assist them, even though it means they'll be absent from work for periods of time," he added.
Lewis and others spoke at the 2019 International Conference on Employer Support for the Reserves, held in the Pentagon April 30.
ICESR is a biennial conference for allied and partner nations to meet and discuss their reserve employer support programs, and to exchange lessons learned and best practices.
The U.S. military's reserve component includes the Army, Navy, Air Force, Marine Corps and Coast Guard reserves, as well as the Army and Air National Guards. Members of these organizations used to train on selected weekends and for two weeks a year, but they are called on to deploy in support of operations that can last a year or more.
Value of Hiring Reservists, Veterans
Lewis, along with Joe Crandall, a partner with Greencastle Consulting in Malvern, Pennsylvania; Carrol Eggert, Comcast Corp.'s senior vice president for military and veterans affairs; and Chris Eccleston, president of Delmarva Veteran Builders in Salisbury, Maryland, participated in a panel discussion during the conference. The four panelists represented companies that have received the Employer Support of the Guard and Reserve Secretary of Defense Employer Support Freedom Award. The panel members discussed how military service and experience makes guardsmen and reservists excellent employees because:
They're solid team players in terms of doing their fair share and valuing opinions;
They're great leaders in terms of managing well and inspiring others;
They come up with creative and novel solutions to problem sets;
They're promoted faster in the company, not because of veteran preference, but due to merit; and
They're dedicated to the mission and getting the job done right, on time and within budget.
Ways Some Employers are Helping Reservists Serve
The four panelists discussed ways their companies help reservists when they deploy, such as supporting families of their deployed service member employees, and making up the difference in pay when the reservist is paid less on military duty than when they're performing their civilian job.
Getting Americans to Know Their Military
Today, only about one-half of 1% of Americans are in the military, and therefore, there are fewer veterans around than in earlier generations to tell the military story and what it means to serve.
Kim Joiner, acting principal deputy assistant to the secretary of defense for public affairs, said that the Defense Department is hoping to educate the American public about who their military people are, what they do, and why they serve.
The "Know Your Military" web page is one way, and the #KnowYourMil hashtag on Twitter is another. The effort also includes veterans and service members making public appearances at public gatherings such as sporting events.