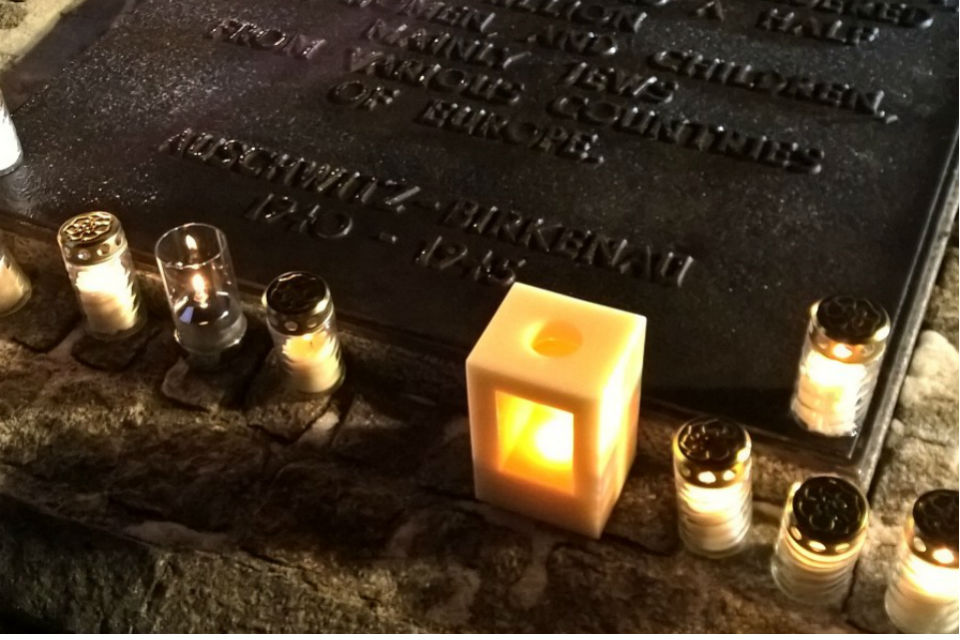 Good morning everyone, and thank you to Ambassador Regev for that very compelling introduction.
This week, of course, we mark the 75th anniversary of the liberation of Auschwitz-Birkenau and Bergen Belsen. So it is a real honour for me personally to see so many people gathered here today, especially survivors and those who have dedicated their lives to the cause of Holocaust remembrance, including of course Eva Schloss.
Like millions of people around the world, I remember learning about the history and atrocities of the Holocaust from a very early age.
But those stories weren't just learned from history books. They were learned from my own family, around the dinner table.
My father fled – as Ambassador Regev said – fled Czechoslovakia in '38 at the age of 6. He didn't come on the kindertransport – he passed through a refugee camp in Tangiers, and he arrived in the UK in 1940 with his parents, speaking no English.
He actually, when he was growing up, he went to school with Alfred Dubs from the House of Lords, which I found out only once I became a Member of Parliament. One of the quirky stories amongst the diaspora that you just come across now and again. Funnily enough, I got to know Alf Dubs very well sitting on the Joint Committee of Human Rights.
Now, when we were young my father almost never spoke of what he had endured; he passed away when I was 12 years old.
But after dad died, my mother wanted to bring my grandmother Hilda, who we always called Aumie, closer to us, and I would remember regularly going and having dinner with her on a Monday evening and how often she would weep over Czech goulash and strudel about the fact that she'd left her parents and her wider family behind. The anguish of knowing they perished in Auschwitz and some of the other camps. The guilt that came with that, as well as the raw grievance.
And my family's experience certainly instilled in me first-hand the horrors of antisemitism and, I should say, the wider scourge of racism.
That's why, on Monday, I was so honoured to announce this government's donation of £1 million to the Auschwitz-Birkenau Foundation.
It is a place that bore witness to the darkest moment in human history. So it is fitting that we make it the place where we learn about what happened, and dedicate ourselves to preventing it ever happening again.
The value of education is more important than ever, because – and I never thought I'd say it in twenty-first century Britain – but antisemitism is not simply a problem of the past.
And today, we look no further than the headlines to see anti-Semitic sentiment is still with us today, in our politics and if we're willing to be honest about it, in our society.
Last December, more than 100 Jewish graves were vandalised with swastikas. And while Jewish families around the world kindled the Hanukkah lights, five victims were stabbed in Monsey, New York, during celebrations at a rabbi's house. On the same day, in north London, synagogues and shops were targeted with anti-Semitic graffiti.
This cannot be ignored. And it cannot be tolerated. Not in 21st century Britain.
So we must be eternally vigilant in the fight against the world's oldest hatred, no matter whether it rears its ugly head here at home, or abroad.
And I would like to reassure the Jewish community in the UK and abroad that the UK is committed to protecting you.
At home, the government is continuing its important work with the Cross Government Working Group to Tackle Antisemitism, so we can respond quickly to the concerns of Jewish communities wherever they may be.
We're providing £14 million this year for a Protective Security Grant to protect Jewish schools and Jewish communities.
And of course, abroad, the Foreign Office counts our campaign to Defend Freedom of Religion and Belief as one of the Foreign Office's top human rights priorities.
And we will continue, as Ambassador Regev reminds us, to call out regimes which target or persecute people on the grounds of religion or belief.
The UK was one of the founding signatories of the Stockholm Declaration in 2000, through which we pledged that the terrible events of the Holocaust would remain forever seared in our collective memory. Under Lord Pickles' leadership as the UK's Special Envoy for Post-Holocaust Issues, we've continued our work to strengthen, advance and promote Holocaust education, research and remembrance worldwide.
And as we vow never to forget, and as we renew our solemn pledge never to allow such horrific crimes to be repeated, we can also pay tribute to the legacy of survivors like Eva.
A few weeks ago, I was honoured to present one of my personal friends and professional heroes, Judge Theodor Meron, with an Honorary Companion of the Order of St Michael and St George.
I don't know many people would know Theodor, certainly in the legal circles he's something of a legend, but he spent his childhood in a forced labour camp in Nazi-occupied Poland.
And he later became one of the most celebrated legal figures in recent times, playing a crucial role in building international criminal justice and humanitarian law, particularly at the time of the appalling crimes against humanity and genocide in Yugoslavia and Rwanda. As well as presiding over the Yugoslavia Tribunal, during the establishment of the International Criminal Court in the 1990s, he helped to draft the very definition of crimes against humanity.
And I met him when I was in the Hague serving as a lawyer working on war crimes between 2003 and 2006. So you can imagine, for me it was a real honour to be able to pay tribute to a legendary figure of international law.
And I think for someone who had experienced first-hand the horrors of the Holocaust, to accomplish so much in the field of international criminal justice is something, at least for me, I find as a source of hope. Because the worst response to atrocity is indifference. And the greatest, is justice.
So today, we honour the millions who lost their lives in the Holocaust. We pay tribute to those who survived. We pledge never to forget, but also never to end the fight against the scourge of antisemitism.
And I hope through our support for the foundation in Auchswitz and our recognition of people like Theodor Meron, we strive to draw some solace of hope from the bleakest chapter in human history. Thank you.
Further information