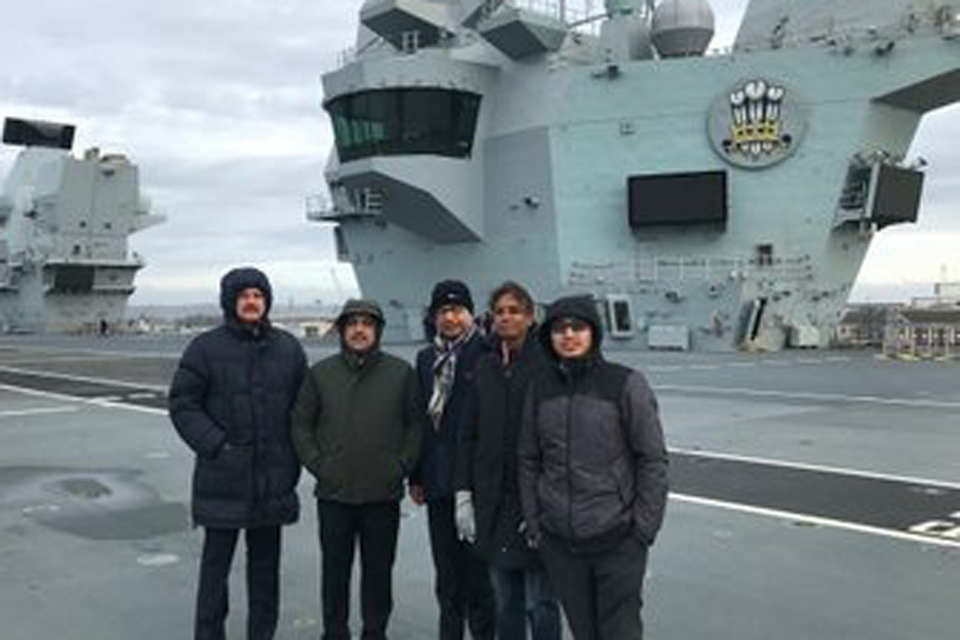 Six Indian parliamentarians toured the UK's brand new aircraft carrier, HMS Prince of Wales, on 16 January 2020 as part of the UK-India Chevening Parliamentarian Fellowship Programme.
HMS Prince of Wales is one of two Royal Navy aircraft carriers and was commissioned on 10 December 2019. Its sister aircraft carrier, HMS Queen Elizabeth, will operate in the Indian Ocean Region on her first operational deployment in 2021.
The parliamentarians are in the UK for a week, focusing on five UK-India priorities: climate change, public healthcare, parliamentary democracy, finance, and defence and security. They were also hosted in the House of Lords, met the Chief Executive of University College London Hospital, and discussed cybersecurity at the University of Portsmouth.
Further information
Hi-resolution images of the parliamentarians touring the HMS Prince of Wales can be downloaded from our Flickr page.

The Chevening Parliamentarian Fellowship Programme is a week long programme in the UK which gives Indian MPs the opportunity to discuss key contemporary issues impacting the world with counterparts and other senior interlocutors in the UK. The MPs are meeting the UK's top opinion formers and decision-makers to exchange ideas, solutions and develop future networks and contacts. The tailor-made programme focuses on leadership, international relations, social and public policy as well as issues relevant to both India and the UK such as clean energy, health, education and smart cities. The programme is hosted by London School of Economics (LSE).
Media
Sally Hedley, Head of Communications
Press and Communications, British High Commission
Chanakyapuri, New Delhi 110021
Tel: 24192100; Fax: 24192400
Mail to: Ashwamegh Banerjee
Follow us on Twitter, Facebook, Instagram, Flickr, Youtube, Eventbrite and Blogs