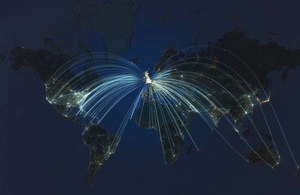 The Director General of International Trade Negotiation, Ministry of Trade of the Republic of Indonesia, Mr. Iman Pambagyo, and Her Majesty's Trade Commissioner for Asia Pacific, Ms. Natalie Black, signed the Terms of Reference (TOR) of the Trade Review between Indonesia and the United Kingdom (UK) on 16 October 2019 in the margins of the Trade Expo Indonesia (TEI) 2019. The signing was witnessed by the Minister of Trade of the Republic of Indonesia, H.E. Enggartiato Lukita.
The signing marks a further strengthening of the bilateral trade and investment relationship between the Republic of Indonesia and the UK. As two of the largest economies and members of G20, Indonesia and the UK have an opportunity to renew and develop stronger economic ties.
The Trade Review is a collaboration between Indonesia and the UK to assess the current state of our bilateral trade and investment relationship, as well as looking to identify possible opportunities to enhance bilateral cooperation for the future. The Review will be based on empirical analysis and engagement with various stakeholders, including businesses operating in both countries. It will result in a joint report which will include recommendations to both governments.
The first formal meeting of the Trade Review will be held in December 2019 in London.
Published 16 October 2019