Wheelchair design has evolved in recent years but users can still find it demanding to propel themselves. That can be especially difficult and uncomfortable on rough surfaces such as cobbles and paving stones.
Wife-and-husband design and manufacturing business Jelly Products has come up with a way to make life better and more comfortable for wheelchair-users with its innovative 'loopwheel'.
Traditional spokes have been replaced with a new design that integrates suspension into the wheel and makes for a smoother passage over uneven surfaces.
Co-founder and managing director Gemma Pearce said:
Loopwheels reduce vibration by up to 70% compared to a spoked wheel so the amount of vibration transferred into the person in the chair is significantly reduced.
There is a lot of research to show that 'whole body vibration' is associated with fatigue and lower back pain, increased spasticity (muscle contraction), and an increase in pressure sores and has an impact on bladder control.
Clever design and new materials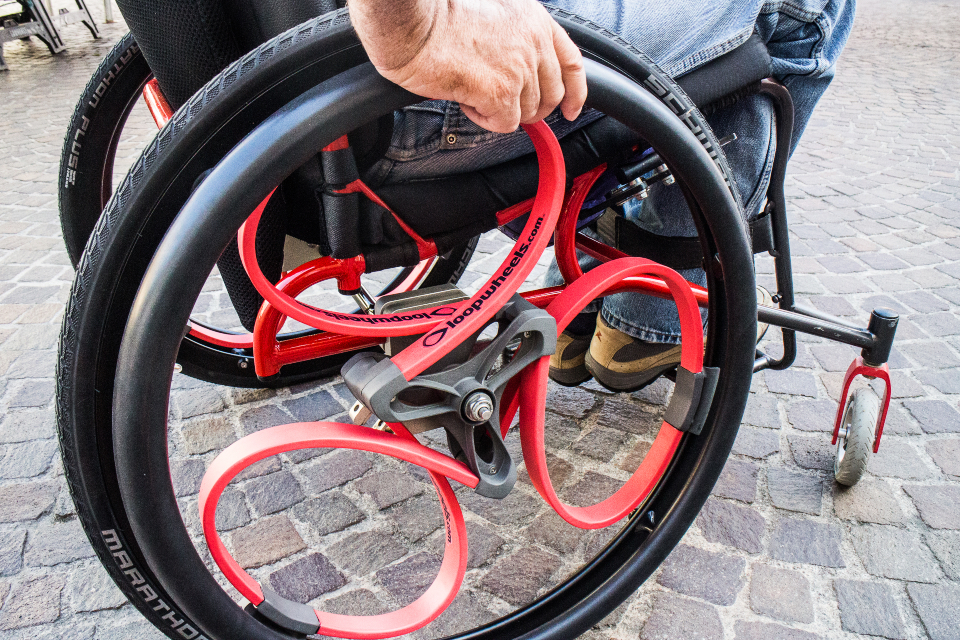 Traditional wheelchair spokes have been replaced with a design that integrates suspension for smoother passage over uneven surfaces.
The loopwheel was designed by company founder Sam Pearce, a product designer and mechanical engineer. The spokes have been replaced by a new interior that makes it easier to go over uneven or bumpy ground and removes vibration.
Innovative design means the wheel has a stiff structure but an element of compression. The springs within the wheel are made of a carbon composite material.
Gemma said:
People have tried to make a wheel with suspension before but they have never had the right combination of design and materials.
Company's sales growing 50% a year
Jelly Products, based in Newark, Nottinghamshire, first tried the wheel out on a folding bicycle, but people very soon started asking if they could be made for wheelchairs.
It is now making 100 wheels a month, and sales are growing 50% year on year. It has distributors across the world including in mainland Europe, Australia, Japan, Brazil and South Africa.
Gemma added:
About 1% of the population in the developed world uses a wheelchair. We have hardly scratched the surface of that market yet. People in wheelchairs are living longer and healthier lives, they are more active at home and in the workplace, and some are using electric motors. There is a real need for loopwheels.
We're growing rapidly now. We've got good distributors in important export markets. We plan to expand into our current market and to look at taking our technology into other areas. This could be for use in other vehicles including for lightweight electric vehicles in our congested cities.
Awards helped business get product to market
Jelly Products was started in 2006 by Sam for design work for other companies and to develop his own intellectual property.
After coming up with the design for the loopwheel, he and wife Gemma realised that it was a risky venture and they would need to prove the product worked and manufacture it themselves to get it to market.
They won a £24,000 Innovate UK grant in 2013 that helped them to develop the loopwheel for wheelchairs. A further £240,000 grant in 2017 allowed them to work with 2 companies, Strategic Simulation and Analysis (SSA) and Composite Braiding, to further develop the loopwheel to go faster and for use off road and on rough terrain.
Gemma said:
That first grant helped us to develop our first loopwheel for wheelchairs. Getting the support from Innovate UK was crucial to us. We should have applied for R&D support earlier, it would have helped us to get a lot further a lot faster.
The second grant has allowed us to work with 2 other fantastic companies that we just would not have been able to do otherwise. It has allowed us to develop a world-class product.