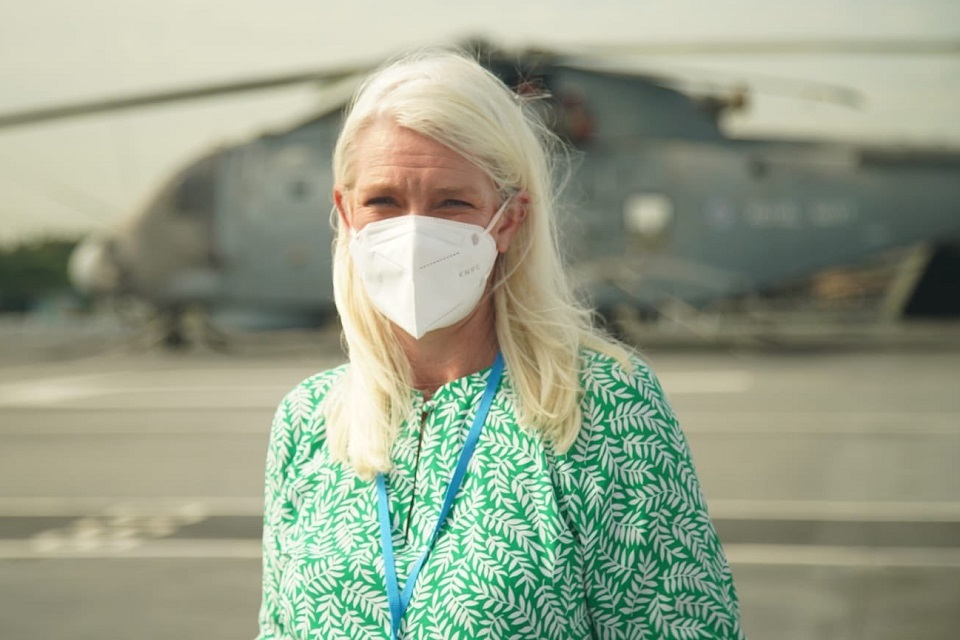 Minister for Asia, Amanda Milling, has visited the flagship of the UK's Carrier Strike Group 2021 in Singapore.
HMS Queen Elizabeth, one of the two largest warships ever built for the Royal Navy, has led the British and allied deployment to the Indo-Pacific. The ship demonstrates our commitment to regional stability, working alongside allies and partners.
The deployment has also helped to deepen the UK's diplomatic and prosperity links with partners new and old in the region.
Minister for Asia, Amanda Milling, said:
The Carrier Strike Group deployment to the Indo-Pacific is a demonstration of Global Britain in action and the UK's commitment to strengthening security ties in the region.

It was an honour to go aboard and meet the crew. I have also met my Singaporean counterpart with whom we work so closely on regional and maritime security.
While in Singapore, Minister Milling met with Senior Minister of State for Foreign Affairs, Sim Ann, where they discussed the Carrier Strike Group visit to the region, the UK's CPTPP application and the ongoing work between the UK and Singapore to boost trade and the digital economy.
The British High Commission hosted a roundtable event with academics and think tanks. The session covered regional and security issues such as the UK's new trilateral partnership with the United States and Australia, AUKUS.
The Minister also participated in a dialogue session with key members of the British Chamber of Commerce and discussed ways to foster closer collaboration on trade, education and sustainability.