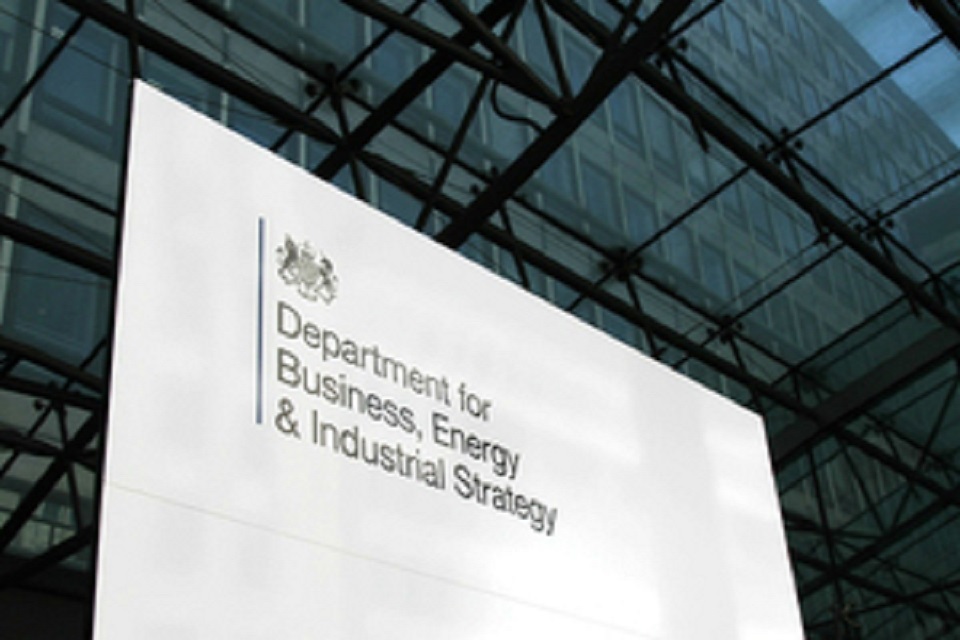 Business, Treasury and Cabinet Office ministers met banking chiefs to encourage support for SMEs
£1.3 billion available to lenders in guarantee schemes through government-owned British Business Bank
new Business Finance Council to be established to support SMEs through Brexit
Business Secretary Andrea Leadsom today (Thursday 5 September) met senior representatives of Britain's leading banks and other lenders to set out support for SMEs ahead of 31 October and beyond to ensure they can make the most of the opportunities that Brexit will bring.
She was joined at the roundtable by Michael Gove, Chancellor of the Duchy of Lancaster, John Glen, the Economic Secretary to the Treasury and Kelly Tolhurst, Small Business Minister.
Ms Leadsom reminded lenders of the existing guarantee schemes available to them through the government-owned British Business Bank and urged them to make the most of this support, enabling their SME customers to invest in capital, increase export capabilities and manage cashflow.
There is currently approximately £300 million of further headroom available to lenders this financial year through the British Business Bank's Enterprise Finance Guarantee (EFG). The EFG facilitates lending to viable smaller businesses that lack sufficient security against which to borrow, potentially enabling a 'no' credit decision from a lender to become a 'yes'.
In the longer term, there is also approximately £1 billion of guarantee headroom currently available and uncommitted under the Bank's ENABLE Guarantee programme. ENABLE Guarantees reduce the amount of regulatory capital that participating lenders need to hold for their loans to small businesses, so that they are able to provide more lending.
Ms Leadsom and Mr Glen also announced that they would co-chair a new Business Finance Council, to be made up of senior representatives from the UK's leading banks and alternative lenders. The Council will identify and address any barriers faced by small and mid-sized businesses in securing the finance they need, particularly working capital and finance for investment. The Council will also provide an opportunity for lenders to demonstrate they are committed to supporting their business customers.
Business Secretary Andrea Leadsom said:
Lenders must empower their SME customers to seize the huge variety of opportunities that lie ahead as we leave the EU on 31 October.

Our new Business Finance Council will bring together key players, ensuring that finance continues to flow to our brilliant British businesses so they can do just that.

Our financial system is strong and banks have the capacity to lend. I would urge lenders to take advantage of the support on offer from our fantastic British Business Bank.
The Economic Secretary to the Treasury, John Glen, said:
SMEs are crucial to the economy and I want to make sure they are fully prepared as we get ready to leave the EU.

It's vital that businesses engage with their lenders ahead of Brexit and the new Business Finance Council will ensure government, banks and other lenders work together to help SMEs access the finance they need.

As the City Minister, I will be working closely with lenders to make sure businesses can seize the opportunities of Brexit and continue creating jobs, growth and prosperity for the country.
UK Finance CEO Stephen Jones said:
The banking and finance industry is focused on helping to minimise potential disruption to clients and customers in the event of a no-deal exit from the EU. An important part of this activity has been, and continues to be, working to support the preparedness of businesses right across the UK.

Our members have confirmed their commitment and capacity to support viable businesses with their cashflow needs. We would encourage all SMEs to talk to their finance providers now about how they can prepare for the UK's departure from the EU.
Keith Morgan, CEO of the British Business Bank, said:
The roundtable demonstrates the commitment from the private sector to proactively raise awareness about the support on offer for small businesses. The British Business Bank is keen to continue working with the high street banks to ensure that small businesses can access the finance they need to grow and prosper.
Notes to editors
The terms of reference and membership for the new Business Finance Council will be published in due course. The membership will include leading executives from a range of lenders.
The Enterprise Finance Guarantee (EFG) programme facilitates business finance to smaller businesses that are viable but unable to obtain finance from their lender due to having insufficient security or assets to meet the lender's normal requirements. In this situation, EFG provides the lender with a government-backed 75% guarantee against the outstanding facility balance, potentially enabling a 'no' credit decision from a lender to become a 'yes'.
EFG is managed by British Business Financial Services Limited, on behalf of its sponsoring department, the Department for Business, Energy and Industrial Strategy (BEIS). Since its launch, the Enterprise Finance Guarantee programme has supported smaller businesses with the provision of over 31,000 loans and other facilities totalling more than £3.3 billion.
The ENABLE Guarantee programme is designed to encourage additional lending to smaller businesses. The ENABLE Guarantee programme is open to all UK banks, UK branches of foreign banks, asset and asset-based finance providers as well as certain other categories of lenders which lend, or intend to lend, to viable small and medium-sized enterprises operating in the UK. British Business Bank has committed guarantees for live portfolios of over £900 million under its ENABLE Guarantee programme (as at the end of end April 2019). It can help to promote greater choice for SMEs by lowering the regulatory capital required for lending, which is particularly beneficial to smaller banks.
The roundtable meeting today took place at the Cabinet Office. It was attended by representatives from UK Finance, the British Business Bank, Barclays, Bibby Financial Services, Close Brothers, CYBG / Virgin Money, Funding Circle, HSBC, Lloyds, Metro Bank, RBS, Santander, Secure Trust Bank, Shawbrook and TSB.