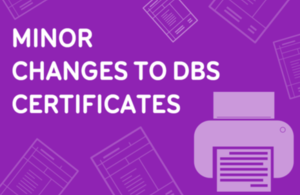 From 30 October 2019, there will be a minor change to the appearance of physical DBS certificates.
The organisation that prints certificates is upgrading their printers in line with developments in print technology. This will increase the sustainability and longevity of certificates.
Due to this change, the purple text (print), and purple lines on a physical certificate will appear as a lighter colour. The paper however will remain the same, as will current security features of a DBS certificate.
More information about the security features of a certificate can be found here.
Published 24 October 2019