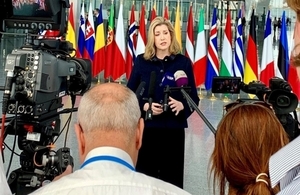 Secretary of Defence The Rt Hon Penny Mordaunt is representing the United Kingdom at the NATO Defence Ministerial. Topics on the agenda include:
Russia's violation of the Intermediate-Range Nuclear Forces (INF) Treaty
progress on burden sharing
NATO's defence and deterrence posture
new technologies and NATO's mission in Afghanistan
Speaking on arrival, the Defence Secretary said:
I'm delighted to be here at my first Defence Ministerial and very much looking forward to hosting the NATO leaders meeting later in the year. We have a busy few days ahead of us with an important agenda discussing Russia's non-compliance with the INF, space policy, innovation, and new and emerging technologies, and defence and deterrence.

The UK will be making a significant contribution to the NATO readiness initiative over land, sea and air, at the heart of which will be our Queen Elizabeth class carriers and the F35s which I saw flying their first operation sorties over Iraq and Syria earlier this week. I'm very much looking forward to working with partners and allies over the next few days and into the future.
Published 27 June 2019