The Women in Nuclear (WiN) Annual Awards recognises those who have gone above and beyond to promote gender balance and diversity across the nuclear sector.
Inspiring role model Prof Melanie Brownridge, the NDA's Technology and Innovation Director, scooped the award for Champion of the Year – which recognises someone who influences their organisation, and the wider industry, to address gender balance.
Dounreay Women's Network and WiN Scotland Highland Regional Team won the Regional Heroes of the Year award – which recognises groups who work together to make a difference.
Speaking at the annual WiN conference, David Peattie, NDA Chief Executive and new patron of WiN UK, said it was an honour to attend the event and hear so many inspiring stories.
I would like to congratulate all of the winners and those who were nominated for an award. It is hugely important that we recognise those who go the extra mile to improve diversity.

Their passion and determination to ensure we as an industry are making progress really helps the sector attract the right people with the right skills.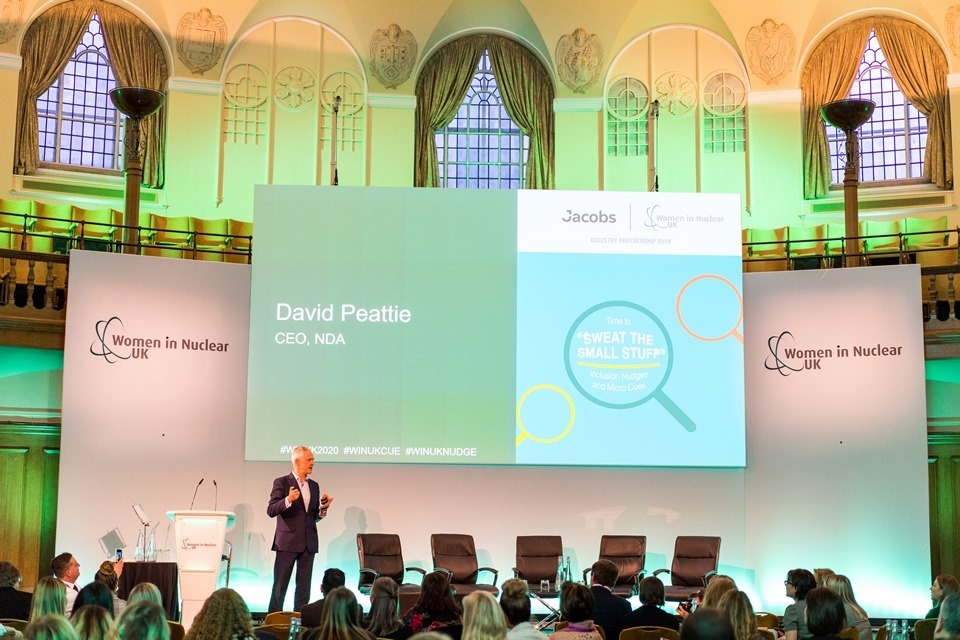 David Peattie, NDA CEO and Patron of WiN UK
Image credit: Women in Nuclear UK
Mr Peattie added:
WiN's mission to improve the representation of women in leadership not only provides us with skills for the future, but also inspires the next generation of nuclear workers.
Other attendees speaking at the event included Gwen Parry-Jones, Chief Executive of Magnox Ltd and Debbie Francis, Managing Director of Direct Rail Services.
On winning her award, Melanie said:
I'm very humbled to have been nominated by colleagues and to have won this award, for being myself. It was amazing to receive feedback from colleagues on how the way I work with others has a positive impact.

I love my job and I'm proud of what I've achieved, always by including and working with amazing people with diverse perspectives. I am passionate about flexible working and enabling people to be the best they can be at work and at home – but there is no one size fits all – and as individuals it's important we recognise and respect that.
Contract manager Fiona Bruce, from Dounreay Women's Network and WiN Scotland Highland Regional Team, said:
The team is really proud to be taking the award home to the Highlands, it is great recognition for all the efforts and passion demonstrated by our members. As a branch we will continue to work towards making our industry more inclusive and meeting the targets set out in the nuclear sector deal.
Other finalists from the NDA group were Hugo Herrera, Business Analyst for the NDA and Peter Welch, Business Services Director, Radioactive Waste Management (RWM), in the Ally of the Year category and Helen Kendall, Acting Head of Higher Activity Waste (RWM), in the Mission Possible category
The awards were held during the annual WiN conference in Westminster on Wednesday which this year focused on inclusion and encouraging people to have a voice.