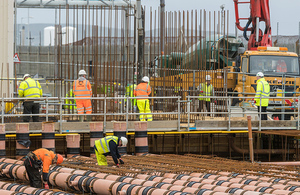 The first concrete pour has taken place on a new waste store at Dounreay that will be needed for the closure of the site.
Dounreay awarded the contract to construct the new intermediate level waste store to GRAHAM Construction Ltd. It is due to be finished by the end of 2021.
A 250 tonne mobile crane, which can be seen on the skyline, is assisting with the pouring of an estimated 1,200 tonnes of concrete, needed to construct the heavy duty floor slab.
Dounreay Project Manager Dave Busby said:
It's great to see the progress of the floor slab, which is now 25% complete slightly ahead of schedule.
The store will hold drums of waste in safe long term storage in accordance with Scottish Government policy.
Published 22 August 2019