As a government organisation and a large employer, corporate social responsibility (CSR) is important to us. We take our social, economic and environmental impact very seriously.
We ran our first CSR Week in August. During the week, we highlighted our work on the 4 strands of CSR – environment, people, procurement and community.
We're proud that colleagues from our 4 offices across the UK (Cardiff, Edinburgh, Belfast and London) are all contributing to these strands of work.
Here's a round-up of our CSR highlights over the last 6 months.
Donating computer equipment to Autism Puzzles Cymru
We donated 40 of our old computers to Computer Disposals Limited (CDL) earlier this year. In return, they committed to fully refurbishing and returning 25% to us to donate to the community.
We decided to donate the computers to Autism Puzzles Cymru (APC). APC is a charity which provides an outreach service for families going through an autism diagnosis. CDL generously supplied us with additional equipment which meant we donated 10 computers, monitors, keyboards and mice in total.
Thanks to this donation, APC is setting up a new IT suite. This will help the charity deliver workshops and offer facilities for families to search for information.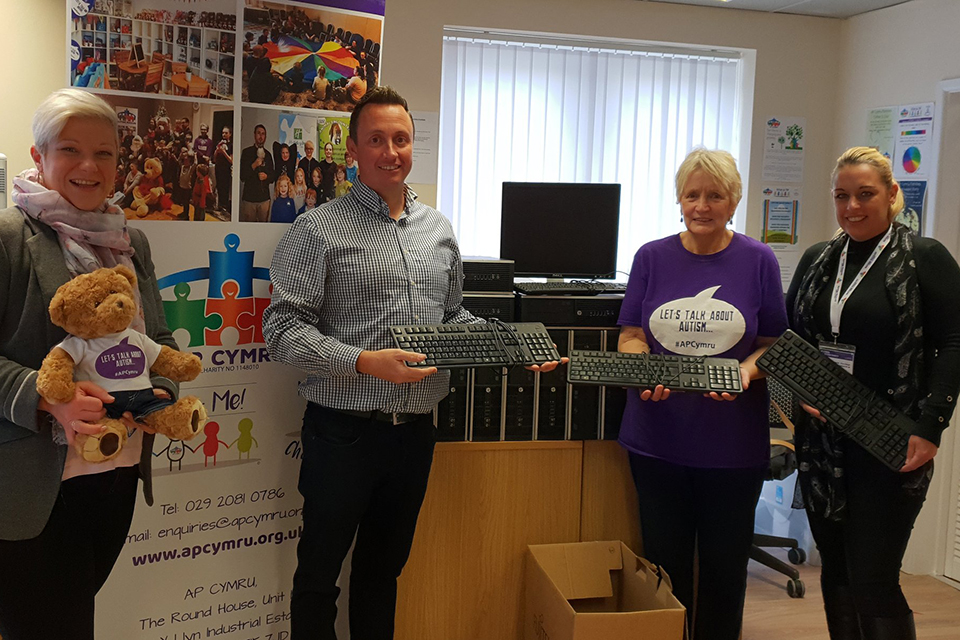 Donating jumpers to Rainbow of Hope
It was Christmas Jumper Day on 14 December. We asked staff to donate jumpers for Rainbow of Hope. Rainbow of Hope is a Cardiff-based charity which supports homeless and disadvantaged people.
We specifically collected men's jumpers as this was identified by Rainbow of Hope as the most urgent need.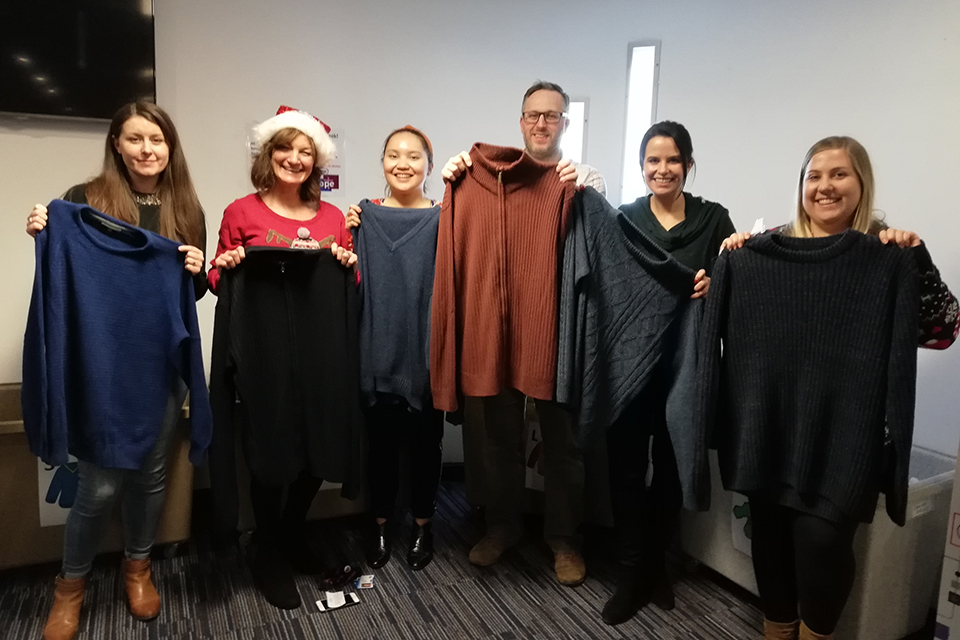 Volunteering all across the UK
Over 300 employee volunteering opportunities were taken up over the course of the year. This has included:
helping out at Animal Hope Rescue Centre
taking part in craft workshops at Tŷ Hafan
organising regeneration projects at several primary schools in south Wales and Edinburgh
contributing 800kg of food to Edinburgh Food Bank
We're committed to increasing our volunteer work in 2019.
Fundraising for our local communities
We support our local communities by fundraising as well as volunteering. To date this year, we've raised just over £7,000. This includes raising:
over £1,200 for Children in Need
over £500 for Alzheimer's Society
over £450 for Velindre Cancer Centre
over £300 for Macmillan Cancer Support in our Edinburgh office
Companies House employees have raised nearly £56,000 since 2012.
Reducing our environmental impact
Our environmental group has been working hard to reduce our impact on the environment. Over the last 3 months, we've focused on reducing single-use plastics in our staff canteen.
We've stopped supplying single-use coffee cups and lids. This has saved 6,000 cups per month going to landfill. Also, all our plastic cutlery and food containers are now biodegradable.
Through both these initiatives and more, we've reduced the amount of waste going to landfill and have saved nearly £17,000.
We regularly use our social channels to promote our CSR activity. If you'd like to know more, take a look at the #CompaniesHouseCSR hashtag.