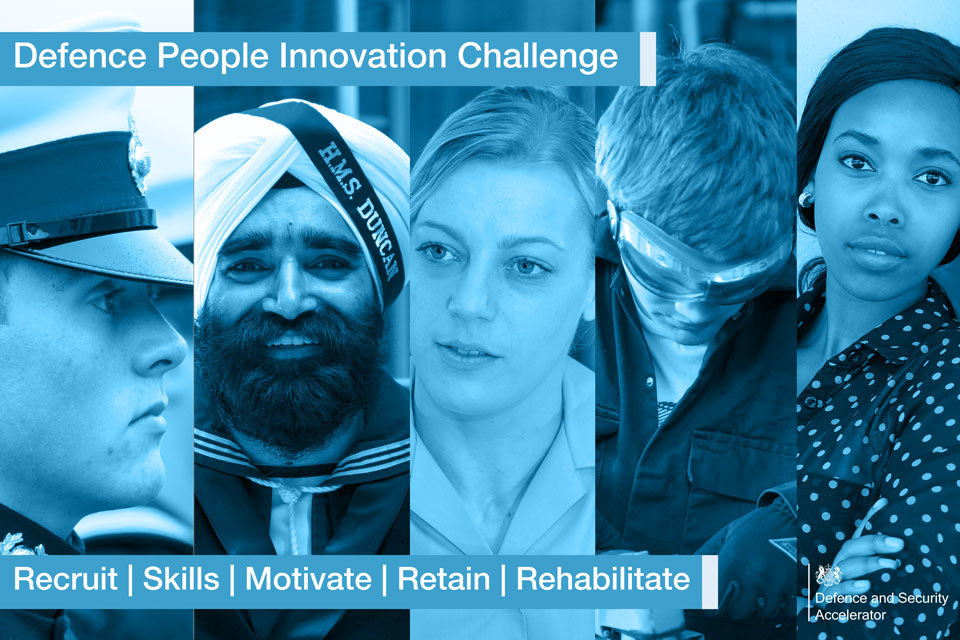 The purpose of the event is to showcase the developments made by suppliers in Phase 1 and encourage the forging of new relationships and collaborations with the possibility of maturing these innovative technologies during Phase 2 and beyond. This event will bring together the current suppliers from Phase 1 with experts and potential collaborators in people management, recruitment, retention and other development areas associated with the challenge. As part of this event, suppliers funded under Phase 1 will deliver a short presentation on the work they are undertaking.
To attend the event
To participate in this collaboration event please register by going to the Eventbrite page. Please note that places for this event are limited and if the event is oversubscribed, we reserve the right to limit attendance if needed.
Second Innovation Challenge Defence People competition
In Spring 2018, DASA launched Phase 1 of the Defence People Innovation Challenge. Phase 1 was focused on the following 5 themes which are considered to offer the greatest scope for innovation and direct benefit to the management of people in the MOD:
Challenge 1 – recruitment

Challenge 2 – skills and training

Challenge 3 – retention

Challenge 4 – motivating the workforce

Challenge 5 – rehabilitation within the workforce
Overall 7 bids were successful in Phase 1 with total funding of over 1 million awarded. Phase 2 of the competition will be launched at this event and will be open to existing suppliers and any new collaborators working with them.
If you have any queries, please do contact us at accelerator@dstl.gov.uk.