<meta name="govuk:analytics:organisations" content="">
Details of the 2019 events and meetings the Groceries Code Adjudicator and her team will be attending or hosting.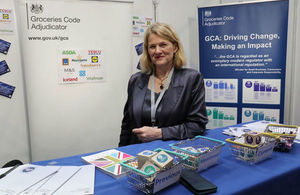 Please check back regularly for updates, or sign up for the GCA newsletter to receive email updates of events.
---
| Date | Event | Location | Further information |
| --- | --- | --- | --- |
| 12 March | International Bulk Wine and Spirits Show | Royal Horticultural Halls, London | The GCA team will be walking around talking to suppliers. |
| 17 to 20 March | International Food & Drink Event (IFE) | London, ExCel Centre | The GCA has two speaking slots on Tuesday 19 March. |
| 20 to 21 March | Taste Wales | Celtic Manor Resort, Newport, Wales | The GCA team will be walking around talking to suppliers. |
| 8 April | Natural & Organic Products Show | London, ExCel | The GCA has a speaking slot at 2pm. |
| 10 April | 3 in 1: Farm & Deli Show, National Convenience Show, Ingredients Show | NEC, Birmingham | The GCA has a speaking slot at 9:30am. |
| 24 June | GCA Annual Conference | Church House, London | Presentations include: The GCA's review of 2018 to 2019, YouGov presenting the results of the annual survey and a forward look by the GCA of her focus for the coming year. For direct suppliers 1-2-1 sessions with the GCA or a member of her team are available. |
Invite the GCA and her team to your event
The Adjudicator and her team are keen to attend as many supplier events as possible. If your organisation is planning an event then please contact Enquiries@GroceriesCode.gov.uk to discuss whether we can attend.
It would be helpful if you could provide full details of the event including timing and location as well as the audience involved.
Published 12 March 2019
Thank you for your feedback