On the first visit by a UK Foreign Secretary to Senegal in nearly 20 years, Jeremy Hunt will champion a new UK diplomatic push across the continent of Africa, including French-speaking countries where the UK has traditionally played a smaller role.
This page will provide an overview of the visit with links to the main announcements.
Senegal
On Monday the Foreign Secretary saw how the Royal Navy is training Senegal's naval special forces to help protect the country's new offshore oil and gas installations.
The UK will fund a new £4 million English language programme in French and Portuguese speaking countries across Africa, and Jeremy Hunt launched the 'English Connects' programme at the Université Virtuelle du Sénégal in Dakar. Over the next 2 years, it will support the teaching and learning of English in sub-Saharan Africa countries where English is not widely spoken.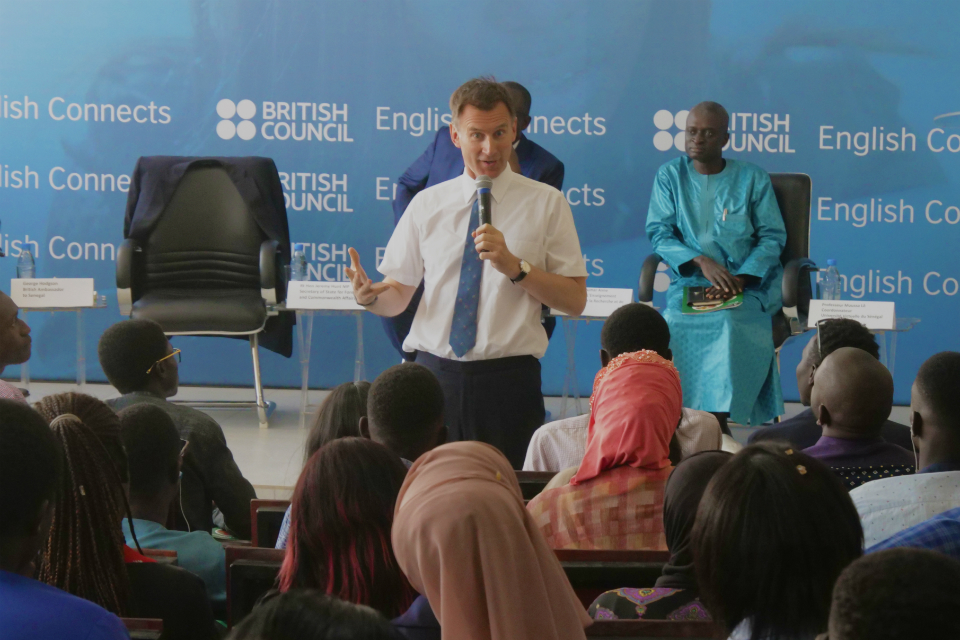 The Foreign Secretary speaking at the launch of English Connects.
Ghana
Today the Foreign Secretary is in Ghana, where he welcomes new business deals with British companies. For example, the Ghanaian government has approved a £26 million agreement with British business Aqua Africa to reduce water poverty in the country.
Nigeria
Later today the Foreign Secretary will visit Nigeria for the inaugural meeting of the UK/Nigeria Economic Development Forum.