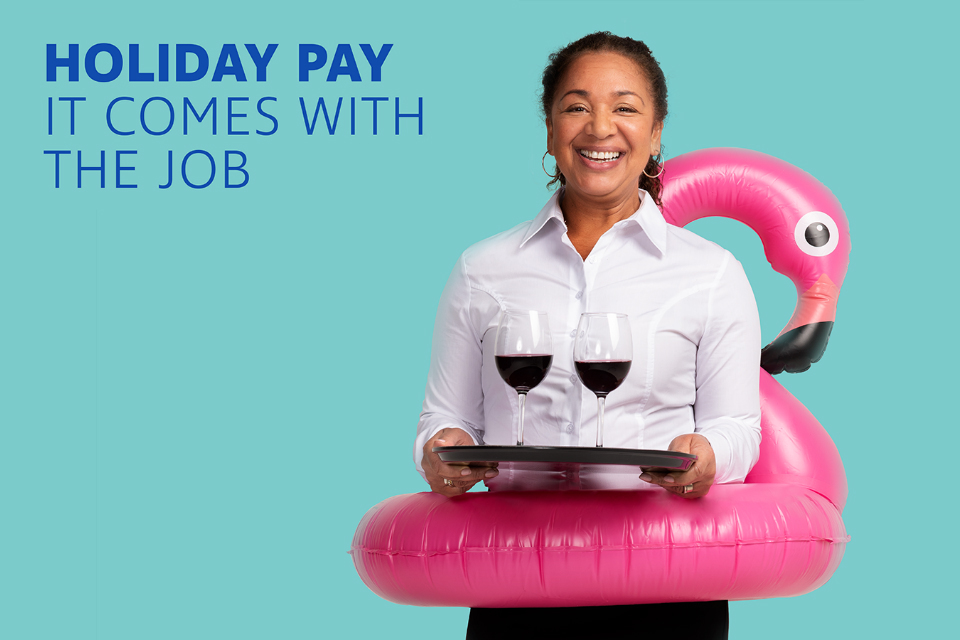 confusion around holiday pay has meant that shift workers, people on zero-hour contracts and agency workers are missing out on the holiday pay they are entitled to
the government has launched its first holiday pay advertising campaign to raise awareness of rights, as part of the modern Industrial Strategy
In the UK 1.8 million people are not receiving the holiday pay they are entitled to, resulting in them missing out on an estimated £1.8 billion each year. A new poll, commissioned by the government, recently identified that many UK workers do not understand their holiday pay rights, with half of those surveyed incorrectly believing that zero-hour contracted workers are not entitled to holiday pay.
In response, the government launched its first 'It comes with the job' advertising campaign encouraging workers to understand their rights and employers to understand their legal obligations in a fairer workplace.
Much of the UK working population are full-time, permanent employees on fixed hours and pay and receive the same pay even if they take holiday. However, the situation is more complex for people who do not have regular hours or do not receive the same pay each week or month. The lack of knowledge of holiday pay means that some workers such as flexible workers, people on zero-hour contracts, agency workers, and temporary staff are more at risk of not receiving the holiday pay they are entitled to.
The holiday pay advertising campaign follows the biggest upgrade to workers' rights in a generation announced by the government in 2018 and is a vital part of its modern Industrial Strategy to create an economy that works for all. It aims to reach workers and employers through video on-demand, Spotify advertising, and digital website and social media advertising, as well as adverts in train stations and on the roadside.
The UK leads the way in workers' rights with the government recently announcing fresh measures giving Parliament, trade unions and businesses a new and enhanced role in shaping the future of workers' rights after Brexit.
The government has also published updated guidance providing advice to employers and workers on how to calculate holiday pay.
For more information about their rights and to calculate holiday pay, workers and employers should visit GOV.UK:
Notes to editors
The government commissioned Kantar Media to conduct a poll of over 2,000 people to understand public perceptions of holiday pay entitlement.
The Unpaid Britain Report published by Middlesex University and the Trust for London found that workers are missing out on £1.8 billion of holiday pay each year.
The government campaign aims to tackle barriers associated with holiday pay, including workers being unsure about how many paid holiday days they are entitled to and feeling unable to speak to their employer. It, and the updated guidance reflects the views express by Matthew Taylor in his Modern Working Practice review which stated that the government needs to do more to promote awareness of holiday pay entitlements.
Protecting and enhancing worker rights after the UK withdrawal from the European Union was published on 6 March 2019.
The Good Work Plan comes as the latest response to the independent Taylor Review of impact modern working practices (2017). The review found that the strength of the UK's labour market is built on flexibility but that a clearer focus was needed on quality of work as well as the quantity of jobs.
The government's modern Industrial Strategy published in 2017, sets out how the whole of the UK can build on its strengths, extend them into the future, and capitalise on new opportunities.