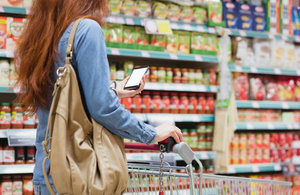 The Government Chemist provided comments to the draft Food Strategy for London document produced by the London Mayor office in July 2018.
The final London Food Strategy has now been published. This is the first Mayoral strategy for food in London since 2006. Food is a key part of the Mayor's social fairness and economic equality agenda and the London Food Strategy aims to ensure all Londoners have access to healthy, affordable and sustainable food. Its objectives and commitments aim to integrate the positive role that food can play across a range of settings and policy areas. The strategy's six settings reflect this:
Good Food at Home, and Reducing Food Insecurity

Good Food Economy, Shopping and Eating Out

Good Food in Community Settings and Public Institutions

Good Food for Pregnancy and Childhood

Good Food Growing, Community Gardening and Urban Farming

Good Food for the Environment
Following an eight-week consultation this summer, to which 150 stakeholder organisations and thousands of Londoners responded, the London Food Boards have been working to take every piece of feedback into account and ensure the final strategy is robust, ambitious and inclusive in reflecting the food needs of all Londoners. The Consultation Report (available from the London Food Strategy page) details the consultation process and how the comments have been taken into account.
The Implementation Plan sets out the actions the Mayor will take and support between 2018 and 2023 to help implement the strategy's priorities.
The strategy, Consultation Report and Implementation Plan are all available to view on london.gov.uk/food.
Published 20 December 2018