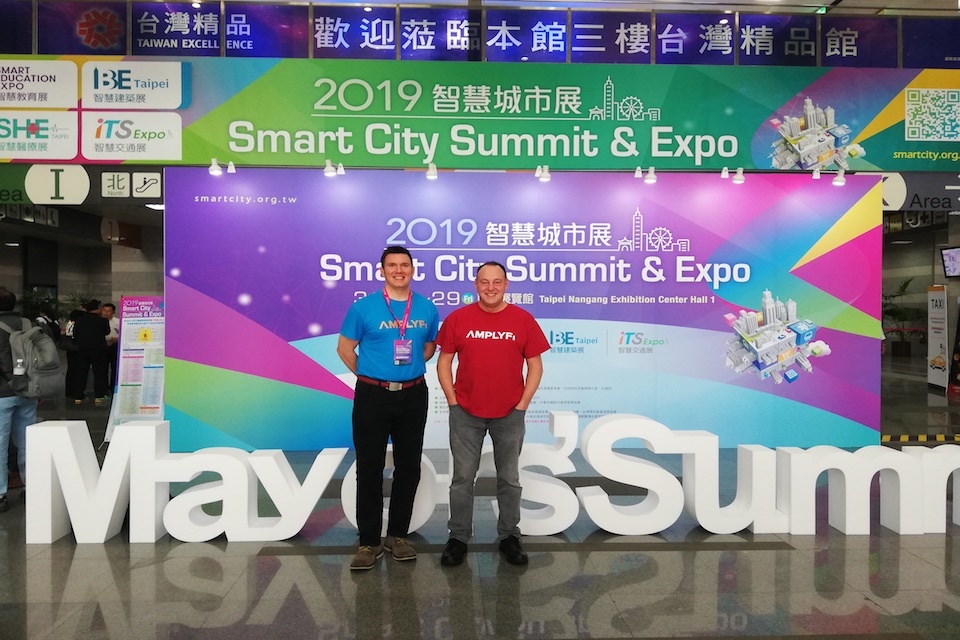 AMPLYFI is exporting UK expertise across Asia, with successful projects already underway in Singapore
AMPLYFI is set to reach a turnover of £130 million by 2023
The UK's artificial intelligence sector is estimated to contribute £654 billion to the economy by 2035
This week, Cardiff-based business intelligence company AMPLYFI attended a Smart Cities trade mission in Taipei to establish new trading links and meet industry experts, with support from the Department for International Trade.
The Smart City Summit & Expo showcases cutting-edge technologies and services from the UK that will help create sustainable cities for all. Ranked fourth in innovation capability by the World Economic Forum, Taiwan is set to develop smart cities as part of its economic growth strategy, providing numerous opportunities for UK technology businesses.
AMPLYFI has seen accelerated growth over the past 18 months as a result of major contracts with firms such as Bayer, RBS and the Ministry of Defence.
In Taiwan, senior figures from AMPLYFI connected with leaders in the technology industry, showcasing their software platform DataVoyant™, which leverages open source data from the Surface and Deep Web to help businesses gain greater insight and improve decision-making.
HM Trade Commissioner for Asia Pacific, Natalie Black, said:
The Smart Cities trade mission showcases some of the UK's best technology and innovation. UK-Taiwan bilateral trade rose to £6.1 billion in the year to the end of Q3 2018, making Taiwan one of the UK's largest trading partners in the Asia Pacific region.

I am delighted to see AMPLYFI exploring business opportunities in Taiwan and across Asia Pacific, putting the UK at the forefront of the artificial intelligence industry.
Established in 2015, AMPLYFI has since built a global reputation in the business intelligence, research and big data analytics markets across Europe, North America and Southeast Asia.
With 75% of its customer base outside the UK, the company is now predicted to reach a turnover of £130 million in the next four years.
Chris Ganje, CEO and co-founder of AMPLYFI, said:
AMPLYFI gives organisations the ability to make better decisions, by unlocking AI-powered insights that were previously not possible. It's hugely exciting for us to showcase the capability of our suite of technologies across the globe, demonstrating the benefits and opportunities that working with AMPLYFI can bring.

Asia is a significant market for us to tap into, and we're proving across the region that our technology – which can be used in any language – is changing the way that the business intelligence industry operates.
Businesses such as AMPLYFI drive technology innovation across the UK and globally. The company's success is key to the UK's growing artificial intelligence sector – estimated to contribute £654 billion to the economy by 2035 according to Accenture.
Notes to Editors
The Department for International Trade (DIT) secures UK and global prosperity by promoting and financing international trade and investment, and championing free trade. We are an international economic department, responsible for: * Bringing together policy, promotion and financial expertise to break down barriers to trade and investment, and help businesses succeed * Delivering a new trade policy framework for the UK as we leave the EU * Promoting British trade and investment across the world * Building the global appetite for British goods and services
Export Strategy
The Export Strategy sets out how the government will support businesses of all sizes to make the most of the opportunities presented by markets around the world.
A government-led collaboration with business, developed after extensive engagement with a range of UK firms – the Strategy sets a new ambition from government to increase exports as a proportion of UK GDP to 35%.
It presents a streamlined and targeted offer for businesses of all sizes, set to raise productivity, boost wages and protect employment across the UK.
This is just the start – in the months ahead DIT will lead work across government to assess what more we can do to support UK business to achieve a step change in their exporting performance.
About AMPLYFI
Look deeper. See clearer. Act smarter.
AMPLYFI is a global leader in AI-driven business intelligence and research and is fully committed to reshaping its industry. Its mission is to empower customers by enhancing their own internal abilities and knowledge with an unparalleled level of understanding – when it matters.
Its flagship product, DataVoyant, combines leading Surface and Deep Web searching and harvesting with Artificial Intelligence data curation and analysis to simplify Big Data through compelling and intuitive visualisations to help businesses spot early warning signals and proactively plan for future disruptions.
The software harvests and then analyses open-source content that is publicly available online across the entire internet – including areas (the Deep Web) where standard search engines cannot reach.
AMPLYFI and its products have won a number of major awards, including recognition as The Spectator's Economic Disruptor of the Year 2018.