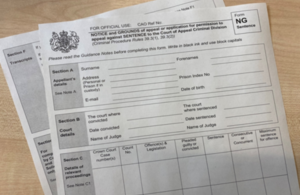 Changes to part 39 of the Criminal Procedure Rules came into effect on 1 October 2018. As a result of these changes, appeals against conviction, sentence or confiscation should be lodged directly with the Criminal Appeal Office and not the Crown Court. Further to this, a separate Form NG is required for each type of application.
Following the changes many legal professionals have adopted the new procedure but some applications are still being received on incorrect (old style) forms. The Criminal Appeal Office is unable to accept these applications and this can lead to delays.
To reduce this, we remind everyone to make sure that they are following the updated Part 39 of the Criminal Procedure Rules.
We have published Forms NG and guidance, including the service address details, as well as advice on completing the forms and grounds of appeal.
Published 10 January 2020