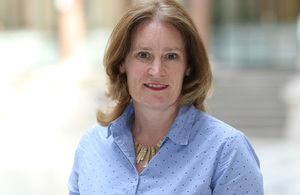 Mrs Sarah Dickson has been appointed High Commissioner to the Commonwealth of The Bahamas, as we open our resident High Commission in Nassau.
She will succeed the current, non-resident High Commissioner, Mr Asif Ahmad CMG, who will remain High Commissioner to Jamaica.
Mrs Dickson will take up her appointment during August 2019.
CURRICULUM VITAE
Full name: Sarah Dickson
Married to: Philip Dickson
Children: Two daughters
| | |
| --- | --- |
| 2015 to present | Scotch Whisky Association, International Director (London) |
| 2012 to 2015 | Guatemala City, Her Majesty's Ambassador to Guatemala and Non-Resident Ambassador to Honduras |
| 2009 to 2010 | Madrid, British Embassy Chief of Staff, Spanish EU Presidency Project |
| 2008 to 2009 | Madrid, Project Manager, Corporate Change Projects |
| 2005 to 2008 | Madrid, Director of Communications |
| 2004 | FCO, Head of Consular and Africa Section, News Department |
| 2003 to 2004 | FCO, Head of Migration and Justice and Home Affairs section, European Union Department |
| 2002 | Madrid, First Secretary (Political/Military) |
| 2000 to 2002 | FCO, Head of International Security section, Security Policy Department |
| 1997 to 2000 | Buenos Aires, Second Secretary (Political) |
| 1996 to 1997 | Belgrade, Third Secretary (Overseas Development Assistance) |
| 1995 to 1996 | FCO, Desk Officer (Health and Social Affairs), European Union Department |
Further information
Published 31 May 2019