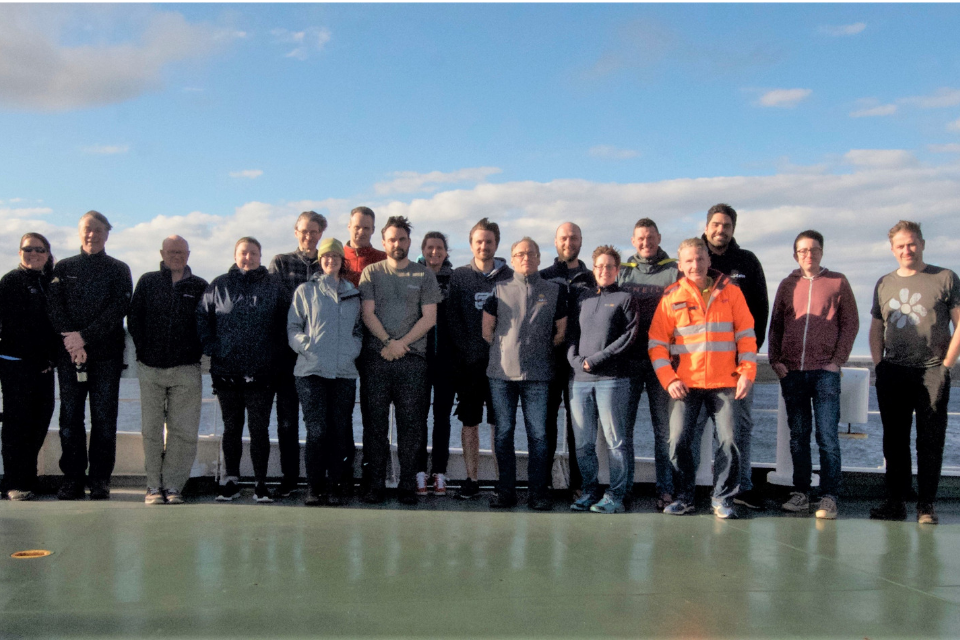 A team of scientists will be heading to some of the remotest islands on earth this March to fill pressing gaps in our understanding of the marine environment.
The team will focus on exploring the underwater mountains in two remote UK Overseas Territories, Tristan da Cunha and St Helena, about which very little information is known. The UK Overseas Territories are home to over 90% of the UK's biodiversity and are of fundamental importance to both regional and international marine conservation.
The upcoming expedition, known as Discovery Expedition 100, is the second marine survey the islands have seen in recent years. During the last survey on the RRS James Clark Ross the team mapped an underwater mountain, donated thousands of ocean animal specimens to the Natural History Museum and even discovered a possible new species of octopus.
This year's expedition, which will take place aboard the RRS Discovery, is a joint Cefas Blue Belt Programme and British Antarctic Survey Overseas Development Assistance project in partnership with the Natural History Museum. It is part of the Blue Belt Programme, which supports the delivery of the UK Government's commitment to enhance marine protection of over four million square kilometres of marine environment across UK Overseas Territories.
Cefas' lead Blue Belt Programme Scientist Dr Martin Collins explains:
Our knowledge of Tristan da Cunha and St Helena's marine environment is surprisingly scarce.

Last year's marine survey significantly improved the information we hold – but there's so much more to discover.

The better we understand these ecosystems and the marine life they support, the better scientific advice we can offer on how to protect biodiversity and support thriving ecosystems.
The expedition will last over 30 days in total, with marine scientists, technologists and marine life observers on board. The RRS Discovery will depart from the Falkland Islands on 12 March arriving at Tristan da Cunha over a week later. Tristan da Cunha is the world's most remote inhabited island situated over 2,000 km from its nearest neighbour.
On arrival scientists will map the ocean floor, collect biological specimens from trawls, gather water samples from the ocean, and deploy deep water cameras that can operate at depths in excess of 1000 metres. Next, the Discovery Expedition 100 will travel to St Helena, a remote volcanic island that is believed to be a breeding site for whale sharks.
The team will spend around 11 days surveying the waters of the island using a variety of scientific methods. Their research will focus upon the ecosystems that live in the water column, with a view to improving the understanding of the food webs that underpin tuna fisheries around the island.
Dr Simon Morley, ecophysiologist and Principal British Antarctic Survey Scientist on the project, said:
The seas around Tristan da Cunha and St Helena are crucial for the islands economies, which rely heavily on fisheries and tourism as well as their cultural identity, which is inextricably linked to the ocean.

This research cruise is part of a 3-year project which aims to provide the islanders with improved tools and the information required to manage their marine ecosystem into the future.
Previous expeditions undertaken by Cefas have donated specimens to the Natural History Museum, London for scientific research. On this voyage three scientists from the Museum will be joining the expedition for the first time, meaning they will be on hand to collect and document specimens ensuring they are preserved correctly for further study.
Jon Ablett, Senior Curator in Charge, Mollusca, said:
We expect many of the specimens we collect to be rare and we may find species never before recorded from these regions. And of course, we hope to find some species that are completely new to science.

You can't protect something until you know it exists and so documenting the marine life of this area can aid in the implementation of future conservation work.
James Maclaine, Senior Curator, Fish, added:
The Museum acts as a biological archive and adding to this collection only increases its usefulness.

This is a fantastic opportunity to add lots of rare and interesting specimens to our collection and then make them available to scientists all over the world. We do already have some fish from these regions but most are over a hundred years old and some date back to Charles Darwin's expedition in the Beagle.
The team are due back in the UK in April after just over a month at sea. For more information on the Discovery Expedition 100 follow @CefasGovUK on twitter.