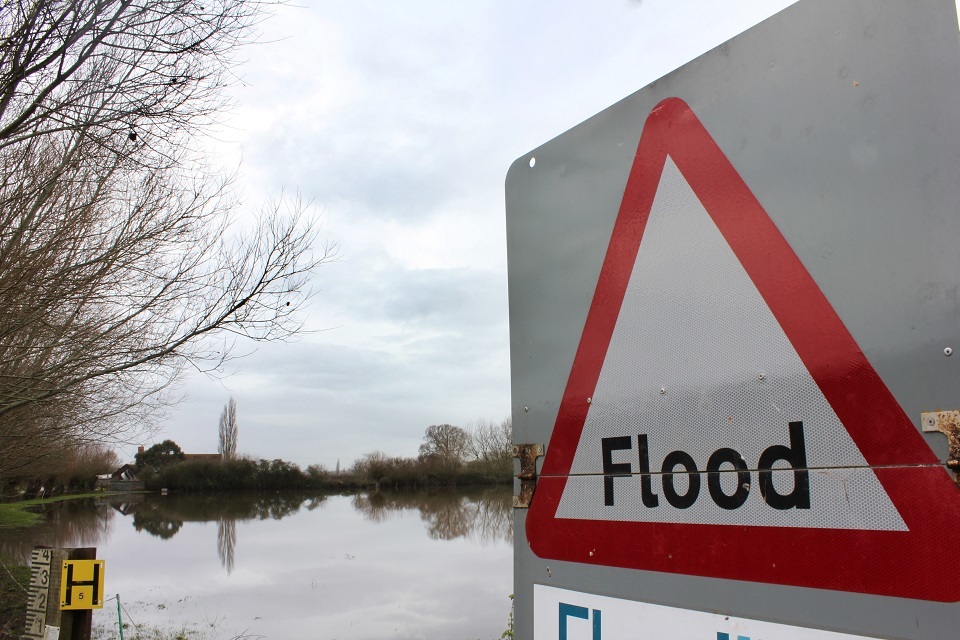 The Environment Agency is urging people to check the latest safety advice as flooding impacts continue to be felt.
Further heavy rain is expected to fall on areas already affected by the wet weather today and later in the week.
Today (Wednesday 19 February) there is a heightened flood risk mainly in parts of the Midlands. Flooding is possible along the Rivers Wye, Severn and lower Avon as river levels remain especially high.
Heavy rain is forecast in the north and north west of England today and into the weekend. Flooding impacts are also possible across parts of England due to spells of heavy rain falling on highly sensitive ground that have been recently flooded.
The Environment Agency is urging people to check their flood risk and remain prepared to take action as the situation changes.
As of 1.30pm on Wednesday 19 February there are six severe flood warnings in place. Four severe flood warnings are in place along the River Severn at New Street, the Wharfage, Uckinghall and Waterside. Two severe flood warnings are in place along the River Wye at Hampton Bishop and along the River Lugg at Hampton Bishop. Severe flood warnings mean a potential danger to life and immediate action is required. Residents should follow the advice of the emergency services.
120 flood warnings, meaning that flooding is expected, and 153 flood alerts, meaning that flooding is possible, are in place across the country. England has also already received 141% of its average February rainfall so far with some areas experiencing a month's worth of rain in 24 hours. River levels continue to exceed existing records across the country. The Rivers Colne, Ribble, Calder, Aire, Trent, Severn, Wye, Lugg, and Derwent all set new records.
There is still heightened concern at the River Severn after river levels reached their highest on record in Upton-on-Severn yesterday and are expected to peak in Gloucester for the first time today. Our incident teams are monitoring the situation and are working closely with emergency services to keep people safe.
Groundwater levels remain high in some places and have risen in parts of Hampshire, Dorset, Wiltshire, North Lincolnshire, East Sussex, West Sussex and Brighton and Hove.
Since the start of Storm Dennis, over 1,000 Environment Agency staff have been mobilised on the ground to operate flood defences and temporary pumps, clear debris from rivers and are inspect damaged flood defences. Community information officers are also out supporting affected communities offering advice and assistance. Environment Agency operational teams have put up more than 6km of temporary flood barriers across the country and our flood defences have protected nearly 25,000 properties from the ongoing impacts of Storm Dennis.
John Curtin, Executive Director of Flood and Coastal Risk Management at the Environment Agency, said:
Our heartfelt sympathy goes out to all those who have been flooded and continue to feel the impacts of Storm Dennis.

We expect further disruptive weather today, bringing a significant flood risk to the West Midlands. Flood warnings also remain in place across much of England following rainfall which has led to record river level in many places. Whilst extremely upsetting, if you are asked to evacuate it is important to do so as quickly and as safely as possible. Now is the time to check your own flood risk.

We will continue to work 24/7 across England, alongside the police, fire and rescue, and local authorities, to reduce the risk of flooding and support communities that have been so devastatingly flooded.

Teams are pumping away flood water and standing ready to deploy further temporary barriers, and operate our large flood gates and assets where required. To date, we have protected nearly 25,000 properties from the impacts of Storm Dennis.
Environment Secretary George Eustice said:
We've once again seen the devastating effects of floods on households and communities across the country. I want to thank our Environment Agency teams working on the ground around the clock with partners to deal with the ongoing impacts.

We know climate change means extreme weather events like this are more likely, and are already investing £2.6 billion in flood defences by 2021, with over 600 projects already protecting 200,000 properties. This crucial funding will help people to make their homes more resilient and better protected if flooding happens again.
With the effects of climate change, we are seeing more frequent periods of extreme weather. It is important for people to be aware of their flood risk and stay safe by signing up for flood warnings, making a flood plan and remembering not to drive or walk through flood water. The public can keep up to date with the latest safety advice, call Floodline on 0345 988 1188 or follow @EnvAgency on Twitter for the latest flood updates.