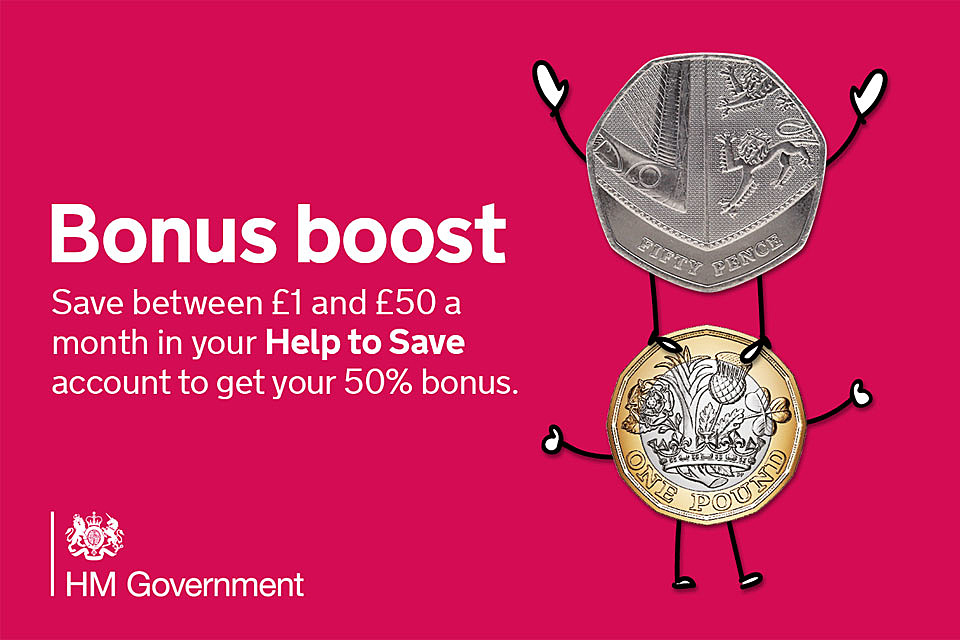 Around 163,000 people have signed up to the government's Help to Save saving scheme – depositing more than £53 million, HM Revenue and Customs (HMRC) reveals today (28 February 2020).
Help to Save offers working people on low incomes a 50% bonus, rewarding savers with 50p for every £1 saved. Over 4 years, a maximum bonus of £1,200 is available on savings of up to £2,400.
The scheme helps those on lower incomes build up a 'rainy day' fund and encourages a long-term savings habit. How much is saved and when is up to the account holder, and they don't need to pay in every month to get a bonus.
John Glen, Economic Secretary to the Treasury, said:
Putting aside some money every month, even if it is only a small amount, can make the world of difference. And with Help to Save, we'll help you make that money go even further.

It's great to see so many people getting a 50% boost on their savings. I'd urge anyone eligible to sign up to this scheme, which is flexible, secure and easy to use.
Stephanie Newton, from Sunderland, who is using the Help to Save scheme, said:
I decided to join because it was an excellent opportunity and incentive. It was extremely easy to sign up and I now know that saving a small amount each month is achievable, and know it is important to have savings put aside in case of any unexpected costs.

I have already recommended the scheme to friends and family.
Help to Save is available to working people on tax credits or Universal Credit with a minimum earned income equivalent to 16 hours per week at the National Living Wage in their last assessment period.
Account holders can save between £1 and £50 every calendar month and accounts last for 4 years from the date the account is opened. After 2 years, savers get a 50% tax-free bonus on the highest balance they've achieved. If they continue saving, they could receive another 50% tax-free bonus after a further 2 years.
Ten things about Help to Save
You get a 50% bonus on your savings. So you can earn 50p for every £1 you save.

Help to Save is available for working people who receive tax credits or Universal Credit – to check if you're eligible go to www.gov.uk/get-help-savings-low-income.

Opening an online account takes less than 5 minutes on average.

Paying in is easy – you can set up a standing order to make regular payments into your account on a weekly, fortnightly, or monthly basis to fit the way that you manage your money. You can also make one-off payments by debit card when you are in your online account. Note that any payments, including standing orders, need to arrive in your account before the last working day of the month to ensure they are credited to that month – don't get caught out by weekends and public holidays.

You can withdraw money at any time from your account if you need to – although this could affect the size of your bonus.

You can continue to receive tax credits or Universal Credit while saving with Help to Save.

If your situation changes and you stop receiving Working Tax Credit or Universal Credit, you can still save and receive any bonus you are entitled to.

Help to Save is backed by the government, which means the money you save is secure.

Help to Save accounts will be available to open up until September 2023.

If you don't have access to the internet, you can still get an account. Call 0300 322 7093 and our helpline advisers will help you set one up.